If it were possible to delete a recent year from the record books 2001 might be a major contender. We could get rid of the terrorism that led to a pointless war, Douglas Adams and George Harrison would still be with us (as would my cat Teala) and K. Barry Sharpless would never have won his completely undeserved Nobel prize for his work on stereoselective oxidation reactions.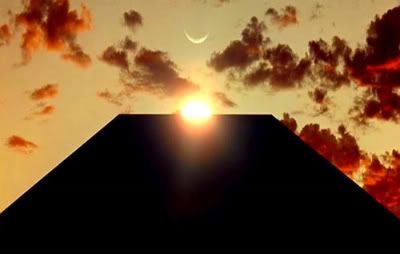 In movie-land we would also be saved the indignity of 'Pearl Harbour', 'Planet Of The Apes' and 'Lara Croft: Tomb Raider'. Then again '2002: A Space Odyssey' just sounds a bit shit.

So here we are, 2001.



As every film year in the UK starts with what America shat out in time for Oscar season (which is why people may be thinking I'm duking the stats with release dates here, I'm not, it's British release dates only) 2001 started promisingly with the interesting 'Traffic', the mini-masterpiece 'The Man Who Wasn't There' and the sublime 'Crouching Tiger, Hidden Dragon'.

Then a lull the size of Ben Affleck's head as the summer threw up the most turgid bile in a long time. 'The Mummy' Returned to a muted repsonse, 'Jurassic Park III' manages the inexplicable feat of being worse than 'Jurassic Park II' and the less said about the horrific terrorist attack that was 'Pearl Harbour' the better (the movie, not the event).

It wasn't until late September that two films, 'AI' and 'Moulin Rouge', had the balls to try something new. Whether you loved them or loathed them (I'm firmly in the loving camp, which is probably a poor choice of words) these were films that had the audacity to be a little bit bat-shit crazy. And they were all the better for it.

Then came the wizards, good ('Lord Of The Rings: Fellowship Of The Ring') and bad ('Harry Potter and the Philosopher's, not Sorcerer's, Stone'). There will be much more about the former in the years 2002 and 2003, but I'll leave the specky-one alone for fear of a torrent of abuse from Potheads, or whatever the fuck the fanbase is called. For lovers of The Ring (pah!) check out the trailer below to bring back a lovely warm glow or nostalgia.





My Film Of The Year
"I Am A Golden God!!!", Miss Penny Lane, playing Tommy with a candle burning, Philip Seymour Hoffman channeling Lester Bangs, "What Kind Of Beer?", Zooey Deschanel as the coolest on-screen Big Sister, Tiny Dancer, "Stillwaaaaaaaaaaaaaaaater!". It could only be 'Almost Famous'.




Cameron Crowe's love letter to his time as a music journalism is the kind of nostalgia that makes nostalgia something to look back on longingly. It's by far and away the best "Wish You Were Here?" film of the year, and a strong contender for best "Wish You Were Here?" film of all time.

A film so in love with music it created the greatest fictional band of all time in Stillwater - sorry to fans of The Wyld Stallyns and Spinal Tap, but these were ultimately just jokes, whereas what set Stillwater apart, and 'Almost Famous' as a whole, is the attention to period detail. Listen to 'Fever Dog' and 'Love Comes and Goes' and you'd swear they were recorded circa '74 with bourbon and cigarette ash lining the mixing desks.

After 'High Fidelity' last week and now 'Almost Famous' you may think I'm just pandering to the muso types of NME but I'm really, really not. If I wanted to do that I'd just recommend some shops that sell skinny jeans. No, 'Almost Famous' just happens to be about music, the reason I feel it's the best film of 2001 is for its endlessly quotable script, career-best performances and the warm fuzzy feeling I get every time I hear 'Tiny Dancer'.

Oh and apologies to K. Barry Sharpless. I'm sure you completely deserved your nobel prize. I was just bored researching on Wikipedia and your name stood out as the funniest. No hard feelings okay?

A Decade In Films - 2000
Share This