'Westworld' Season 2: release date, trailers, casting news and fan theories
Spoilers for Season 1 below
Sci-fi/Western hybrid Westworld is back for Season 2. Here's all the key information you need to know about Westworld Season 2.
When is Westworld Season 2 out?
The show returned on April 22 on HBO and Sky Atlantic.
Is there a trailer for Westworld Season 2?
Yes, we've had three. The trailer most recent offers glimpses of ShogunWorld, the feudal Japan theme park – while the clip itself is soundtracked by a cover of Nirvana's 'Heart-Shaped Box'.
Here's the trailer which dropped during Super Bowl 52, soundtracked by Kanye West's 'Runaway'.
How many episodes will there be?
As confirmed by Bloys, there will be 10 episodes, just like the first season.
Here are the confirmed episode names, so far.
Journey Into The Night
Reunion
Virtù e Fortuna
The Riddle of the Sphinx
Akane No Mai
Will the entire cast be back for Season 2?
Several of the cast members from Season 1 will return. Delores (Evan Rachel Wood), Maeve (Thandie Newton), Teddy (James Marsden) and more all feature in Season 2's first episode.
Ed Harris, who played the older iteration of The Man In Black in the first season is seen in the new episode. His younger iteration,  Jimmi Simpson, is set to return, though does not feature in the first episode. Speaking to IGN at Comic-Con in July, Simpson confirmed that he would feature in the new episodes. "There's a few more questions we're going to answer for us about how that transition occurred" he said, when asked about how his character morphed into the Man in Black.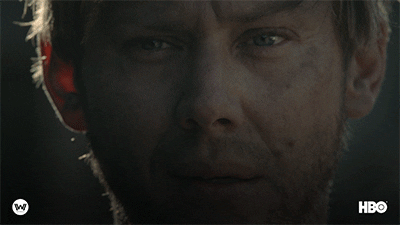 Anthony Hopkins, who played the park's creator, Robert Ford, and was shot in the season's finale, has been cryptic about whether he will return.
Speaking to the Hollywood Reporter, producer Jonathan Nolan didn't rule out Hopkin s return, saying "I think with this show, you want to assume nothing" in regards to his return, and speaking to The Mirror in December, Hopkins backed that up. "Nobody knows anything," Hopkins said. "I don't know anything. I cannot give any answers as I don't know." The creators later confirmed that we will see flashbacks of Ford as a young man.
Louis Herthum, who plays Peter Abernathy (Delores' father), revealed that his character will return for the new episodes and that he will become a main cast member for the show. Talulah Riley, who played the the welcoming host Angela will also be promoted.
Will there be any new characters in Season 2?
You betcha. First up to join the crazy gang is The Leftovers star Katja Herbers, who is described as by Deadline as "a seasoned guest in Westworld whose latest visit comes at the park's darkest hour". Is she going to be the park's saviour when it all goes a bit bananas next year? It seems that way…
NME Newsletter
Sign up for the newsletter
As confirmed by Variety, Gustaf Skarsgård (Vikings), Fares Fares, and Betty Gabriel will all join the Westworld crew. Skarsgård (pictured below) plays Karl Strand, "a white-collar guy comfortable in the field", with Fares playing a new tech wizard called Antoine Costa, and Gabriel taking the role of Maling, a new enforcer in the park.
What's going to happen in Season 2?
The first episode, Journey Into The Night went some way to introducing the themes. Chaos reigns, with Delores hunting down hosts and guests – but with no clear path of where she's heading. Bernard meanwhile is coming to grips with his existence as a host, and The Man In Black is still alive and kicking and looking for a new adventure. Maeve, meanwhile, is on the hunt for her daughter – which she's still trying to decide if is a part of her imagination or real.
One thing that people are excited about seeing is the introduction of other worlds. In an interview with the Hollywood Reporter, Nolan and Joy suggested that new worlds are in play, though we are yet to see them. "We will ultimately encounter other worlds. Just when and where remains to be seen."
Watch a new trailer for the coming episodes in the show's second season.
Are any of the fan theories correct?
In a press conference last year, Nolan confirmed that Reddit had correctly guessed one of the twists coming in Episode 3. 
"Reddit has already figured out the third episode twist," Nolan said. "So, we're changing that right now" he revealed. "It's annoying sometimes when people guess the twists and then blog about it, but the engagement is gratifying, on one level, because if someone guesses your twist, it means you've done an adequate job [of structuring the series]."
He didn't go on to say which of the fan theories was guessed correctly, however.
In March, Nolan spoke out on how to deal with fan theories and involve viewers more than ever. "We're figuring out how to sort of interact with that in the second season. A somewhat controversial plan that we're working on; we'll have an announcement about it in a couple weeks. It's incredibly gratifying to see people put that much work — not just into deciphering the season, but the fan art and music. The creativity you see coming back at you when you're making one of these things is extraordinary."