What's going on? It's Saturday, and the library and the church are so full of pretty young things concentrating intensely that it's impossible to get in. Although everyone in Yorkshire is saintly and studious all weekend long, something's definitely up.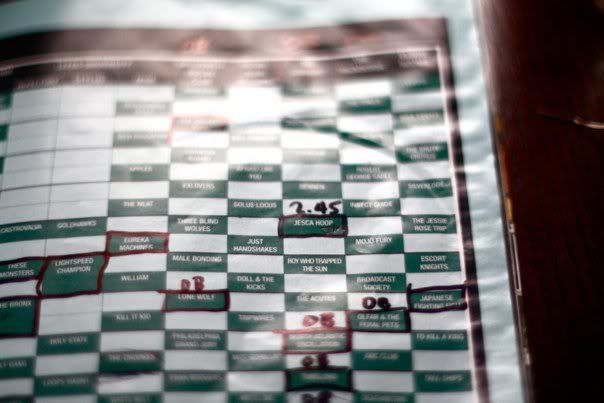 It can only be Live At Leeds, the annual orgy which is arguably the real Leeds festival, rather than that little village fete down at Bramham Park every August.

The library, the church, the college of music, both universities and most venues between the city centre and studentsville will have so many people going in and out of them today that at least one of the door staff is going to get an STD.
Organised by the Cockpit promoters, Live at Leeds has grown considerably since 2008, but is still less Yorkshire's answer to The Great Escape than a pat-on-the-back, boozy bender for the city's most successful bands (with a few special guests).
This year, special guests included The Bronx (and their alter-egos Mariachi El Bronx), Hadouken, Lightspeed Champion, Gallops, Blood Red Shoes and a whole load more who would take me right over my word count.
We start the day with Piskie Sits at the Packhorse, setting the bar quite high for the number of people per square inch it's possible to squeeze into a venue. With everyone in Leeds having a wristband rather than tickets, there's no such thing as 'maximum capacity'.
There is, at least, a huge variety of pretty things to listen to as you fight several hundred other people for the disproportionate amount of oxygen in each room: Blue Roses lights up the quietly crammed church with her acoustic loveliness and commanding vocals; The Bronx start a pit so fierce that the already full and stuffy Refectory becomes foggy under a sweaty cloud; Wild Beasts fill the huge room at Leeds Met right up to the back door.
Biggest Leeds scene export of the day, The Sunshine Underground, for some insane reason, are booked to finish off the night at the Faversham; a venue which – although pretty swish – only gives about 40% of the crowd a view of the stage, and can only really hold about 40% of the people there without stacking them.
Personal favourites were Gaggle, Gallops, Wild Beasts and The Sunshine Underground – no surprises there – but Leah Mason was a new one, a Hendrix diva with a powerful voice who shut a load of Yorkshire lads up in the Cockpit up in the middle of their Bank Holiday drinking – not easy.
It could be suggested the festival should change into something balanced more in favour of bands from outside the city, but it would be very difficult to argue with the footfall this fairly incestuous orgy has attracted each year. Long may Leeds congratulate itself.