How often do you get to go skinny-dipping while Jenny Lewis sings a few feet away, dance on stage with Girl Talk or play yoga-Twister at midnight?
These were just a few of the attractions on offer at the inaugural Wanderlust Festival, which unfolded in the ridiculously picturesque Sierra Nevada mountains on the California side of Lake Tahoe this past weekend.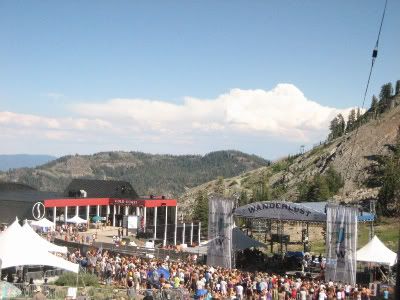 Festival founders Jeff Krasno and Sean Hoess, who run the Velour Music Group, and Shuyler Grant, a renowned yogi who also happens to be Jeff's wife, figured that surely there must be some crossover between music and yoga. Turns out they were right. Thousands of people descended on Squaw Valley near Lake Tahoe for three days of chanting, sun-saluting and rocking out (or at least swaying in time to the music).
The eclectic, indie-rock-laden lineup included Jenny Lewis, Spoon, Broken Social Scene, Andrew Bird and Michael Franti, who was forced to cancel at the last minute to undergo an emergency appendectomy. Chicago rapper Common ably stepped in to fill his shoes, and Girl Talk and Sharon Jones And The Dap Kings kept things going late into the night.
There was just one catch: to see most of the bands you had to take a 20-minute cable car ride up the side of a steep mountain. For many festival-goers this was an "ooh" and "ahh"-inducing experience, replete with scenic photo opps. Some of us, on the other hand, suffered through it with sweaty palms, trying desperately to keep our eyes shut so as not to catch a glimpse of the jagged peaks down below that promised certain death.
The view at the top almost made up for the terrifying journey. Spread out before us was a stage nestled in the mountains with a small lake just behind it. Snow dotted the mountain peaks, even though it was a blazing 90 degrees in the midday sun, and Lake Tahoe sparkled in the distance. Several musicians commented that this was the most beautiful festival they'd ever attended. "I feel like I'm in the 'Sound Of Music'," Amanda Palmer said during her Saturday afternoon set which saw her covering Bright Eyes as well as Michael Jackson's 'Billie Jean'.
Going from the ridiculous to the sublime, Palmer had just come from the comic book/sci-fi-geek bonanza Comic-Con in San Diego, where she and her sci-fi author boyfriend Neil Gaiman had been promoting their book 'Who Killed Amanda Palmer'. "Going from Comic-Con to Wanderlust is crazy," she said. "It's all about the demographic."
Rilo Kiley frontwoman-turned-Appalachian-folk-singer Jenny Lewis fit right in with the festival's mellow, tree-hugging vibe, and managed to draw an even more sizeable crowd than the skinny dippers swimming in the lake a few feet behind the stage as she performed.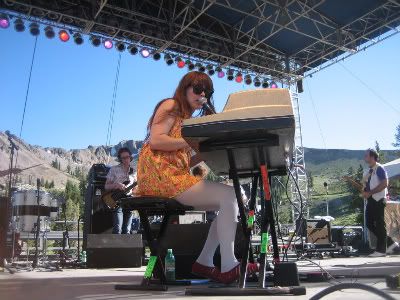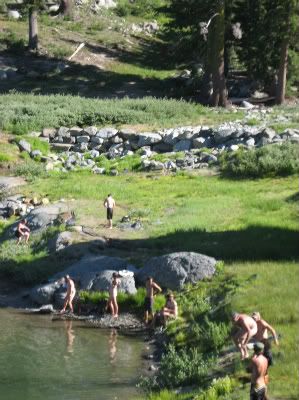 But it was Andrew Bird who stole the prize for the weekend's most fitting act. His whistling and fiddling echoed off the mountaintops, and it almost seemed as if the Chicago native could have been born right there wearing a checked button-down shirt.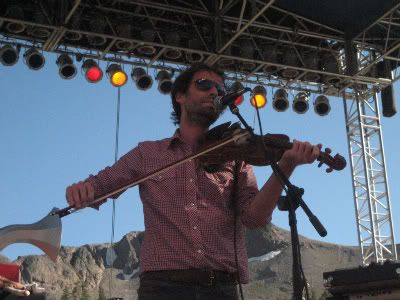 That said, The Honey Brothers came in a close second with their charming, ukulele-driven tunes. Right now, their main claim to fame is the presence of actor Adrian Grenier of 'Entourage' as their drummer. But keep an eye out for their forthcoming full-length album that could boost their notoriety judging from the tunes they played at the festival.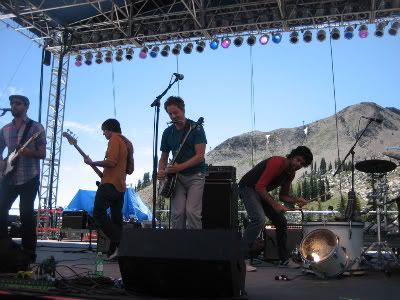 Winning the prize for the most random act of the weekend was Girl Talk, aka Gregg Gillis, who cranked things up with his Saturday-night DJ set. The crowd, who had by now exchanged their yoga mats for beer cups, went nuts for his Michael Jackson-MGMT-Queen mash-ups.
Those who craved more body-bending antics convened afterwards in a yoga tent for a midnight game of yoga-Twister.
Not to be forgotten was the impressive array of yoga classes on offer all weekend, boasting titles such as 'I Am A Tree', 'Acro Yoga Monkey Madness', 'Rock Your Heart Out' and 'Let Your Pose Sing', pictured here: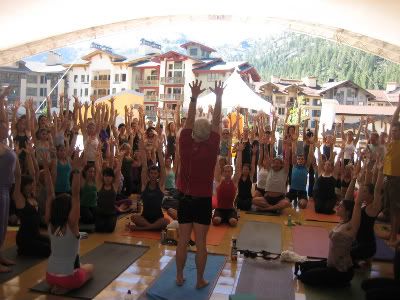 Just before Spoon closed out the three-day festival with a solid set, Wanderlust organisers promised they'd do it again in 2010. "We'll see you next year," they told the crowd. "If you come back again, we will too." Despite the terrifying gondola ride, I have a strong suspicion that I'll be back and ready for an all-night game of Twister.