What do you get when you mix White Russians, inflatable dolls, bowling, a nine-year-old guitar prodigy and Jesus? The Lebowski Fest, of course – one of the oddest, most surreal festivals ever to roll in the City of Angels.
As one might have gleaned from its title, the festival, which began in Louisville, Kentucky in 2002 and now travels across the US, pays homage to the Coen brothers' 1998 film, 'The Big Lebowski'. Although audiences largely avoided the movie when it came out a decade ago, it has since developed an avid cult following (which includes members of My Morning Jacket, who performed at the Louisville Lebowski fest dressed in costumes) and its dialogue is quoted religiously by hyper-literate slackers everywhere.
Cut to LA's Wiltern Theatre circa 2009, and several grown men have donned film characters' tacky attire (think loud bowling shirts, one-piece jumpsuits and hair nets) to sip White Russians – the titular character's bevvie of choice – and act out scenes from the film 'Rocky Horror'-style. But first, they are entertained by Yuto, nine-year-old Japanese guitar prodigy who cranks out Ozzy and Black Sabbath, and other grown men who men toss around inflatable dolls.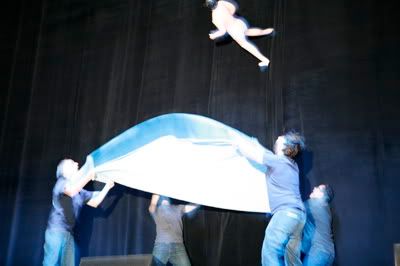 Then actor Jeff Bridges, the Dude himself, makes an appearance via satellite. Although we're hoping to see him in the flesh (Bridges showed up to the LA Lebowski Fest a few years ago, which he refers to as his "Beatles moment"), it's still inspiring to see him in full bathrobe-wearing, White-Russian-stained-moustache Dude mode.
Meanwhile, the REAL dude, Jeffrey Dowd – the man who inspired the Coen brothers to create the quintessential LA stoner character – is running around in the audience taking snaps with his adoring public.
Although many Lebowski-loving single dudes seem to be looking for likeminded "special ladies", their odds aren't too good this night as they outnumber their female counterparts by about four to one.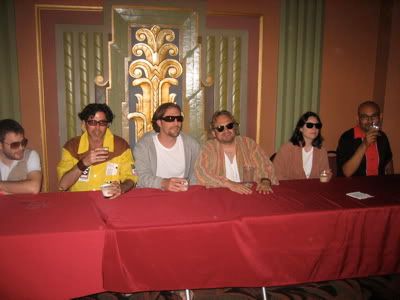 Hopefully the odds will improve for Dudes at the upcoming Lebowski Fests, which will roll into cities across the US from now until October.