Adele shocked everyone when she took part in James Corden's Carpool Karaoke series. Her funny, word-perfect rendition of Nicki Minaj's guest verse from Kanye West's huge collab track 'Monster' took the internet by storm and showed the keen sense of humour lacking in her knitted-by-nana music – but it's not the first time Adele's shown us her comedy chops. Here's 15 of her funniest moments.
1. When she high-fived Daniel Craig
This was at the Golden Globes 2013, when Adele's theme tune for 'Skyfall' – also called 'Skyfall', of course – nabbed the award for Best Original Song from under Taylor Swift's nose. Adele, who was sitting two places away from Bond actor Daniel Craig, took the opportunity to give him a cheeky high-five. Later, when she accepts the award, she tells the huge crowd of big-name actors that she and her friend Ida, both new mums, had just come for a night out. "We've been pissing ourselves laughing at all of you."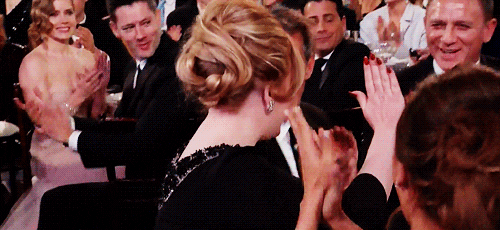 2. When she mistook the man who signed her for a pervert
When she was trying to get signed, Adele got a series of emails from a man at a record label, and assumed they were from a pervert. It wasn't until she read them properly that she realised he was trying to give her a record deal.

3. When she went mad with power over Graham Norton's chair
Put Adele on a red sofa with a glass of wine and a handle, and she will pull that handle. All this guy had said was that he had been in Germany, and she chucked him off.

4. When she made this face after performing on SNL
"With my stage fright," Adele has said, "I just don't want to let people down. I get so nervous on stage that I don't have the guts to improvise or anything like that." After her performance on SNL late last year, she made this face to express her relief.

https://vine.co/v/izWvTuddb60/embed/simple
5. When she pranked her own impersonators
Schmaltzy though it may be, this clip is also pretty funny. In it, Adele dons a prosthetic nose and takes part in an Adele-impersonating competition to prank her tribute acts. The best bits are her reactions to the others' speculation about her thoughts.

6. When she told this story about flashing a bus stop full of people
It involves her going out early in the morning wearing a poncho and no pants. It was windy.
https://www.youtube.com/watch?v=C50OmfetUBA
7. When she laughed at the SNL sketch about her
The below video showed a bickering family at Thanksgiving – the only thing that could stop the arguments was Adele's 'Hello'. Adele posted a pic of herself being totally in on the joke.



8. When she gave the middle finger to the suits at the BRITs
At 2012's BRIT Awards, Adele was prevented from making a full speech when she received the award for Best Album for '21'. As James Corden interrupted her to tell her to get off the stage – because of advert time, or curfew restrictions, possibly – she gave the middle finger, which she explained later was aimed at 'the suits'. Good on her.

9. When she swore at everyone because she loves it
Here is a clip of Adele swearing here, there and everywhere. She doesn't give a fuck about the fucking fuckers who object.

10. When she talked honestly about hearing Jennifer Aniston pee
She also called her Rachel.

11. When she did the intros round on Buzzcocks
Who says Adele isn't versatile?

12. When she asked Frank Ocean and Rihanna to come back
Slightly hypocritical, but heartfelt nonetheless.

13. All the times she's cackled
She has a proper good cackle, does Adele. See?

14. When she failed to get through this interview without laughing every two seconds
Wendy van Dijk is a Dutch comedian with an offensively Borat-style persona called Ushi Hirosaki – a hapless Japanese journalist. Adele cackled hilariously through one of her fake interviews, fielding questions including one she erroneously understood to be about masturbation.
https://www.youtube.com/watch?v=8WY0JQaVVG8
15. When she graciously accepted this awkward Happy Birthday rendition
This is an embarrassing live TV moment to have to sit through, but Adele didn't give a shit.