We all did things in the early noughties that we're now ashamed of. It was a different time, it was a simpler time. And yet since the school day finished at around 3.30pm, we had a lot of opportunity to ruminate on things, get angsty and rile ourselves up. Thus nu-metal – a shouty genre that layered a pop sheen over crunching guitars and sometimes melodic, sometimes rapped vocals – was born in the late '90s and had tired itself out by the mid-noughties. Rage Against The Machine were at the quality end, Limp Bizkit were at the not quality end. Here are 27 things you know if you were a new nu metal fan in the early noughties – you angst-ridden thing, you.
Dicknose was the best member of Slipknot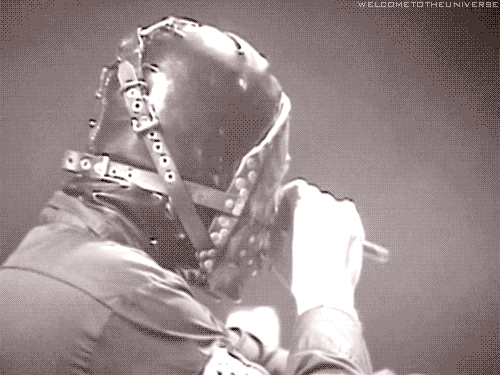 Know this: he probably chose that name himself.
You can still recite every single word to Papa Roach's 'Last Resort'
In other news, the opening lyrics to the band's 2000 breakthrough album 'Infest' are: "My name's Coby Dick / Mr. Dick if you're nasty / Rock the mic with a voice that's raspy." Calm down, Coby, you'll kill us all!
The live version of Staind's 'Outside' featuring Fred Durst gives you #feelings
"I'm feeling those lighters." Only in the heady days of nu-metal would an acoustic performance require Fred Durst as a hype man.
Incubus kind of sold out but that's alright 'cause Brandon Boyd was cool AF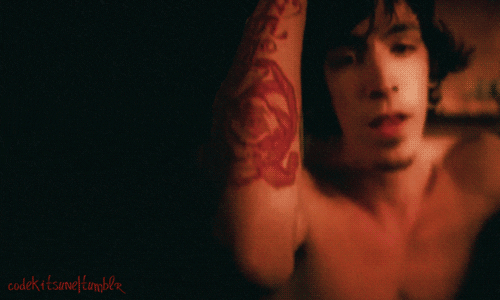 That face, though.
Mudvanye were a budget Slipknot
And that is absolutely okay.
Crazytown's video for 'Butterfly' was your sexual awakening
Ah yes, that explains a lifetime of sexual dysfunction.
It's always worth setting time aside to enjoy his picture of Crazytown, in which the 'RAP ROCK IS DEAD' t-shirt isn't even the worst t-shirt on display
Guy on the far left, you are a silly boy.
Alien Ant Farm's 'Smooth Criminal' is at least as good as Michael Jackson's original
#sorrynotsorry
It's heart-warming to see that Disturbed have recently found mainstream success
Over 20 years since they formed, the Chicagoan group has somehow, accidentally found mainstream success, as their unlikely cover of Simon and Garfunkel's 1964 song 'The Sound Of Silence' has been streamed over 54 million times and, bizarrely, been played on Radio Two. Goddamn it, they've earned it.
Thanks to Korn, an Adidas tracksuit was always a good look
As was a wallet on a chain attached to a pair of jeans that can only be described as "voluminous"
While any school uniform was improved 9000% with a White Pony hoodie
Because this was your jam every Monday morning
Fuck you, Miss Holland!
This mash-up video of Linkin Park's 'In The End' is everything
183 movies spliced together to make one amazing nu-metal song. A lifetime of happiness.
Wes Borland was a scary dude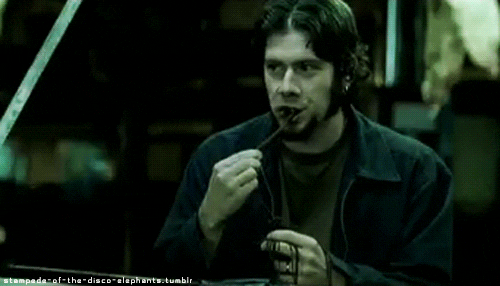 You would not want the Limp Bizkit guitarist to sit next to you on an empty bus.
Similarly, you illegally downloaded 'Wait And Bleed' on Napster and lived in fear that Slipknot would find out and seek bloody retribution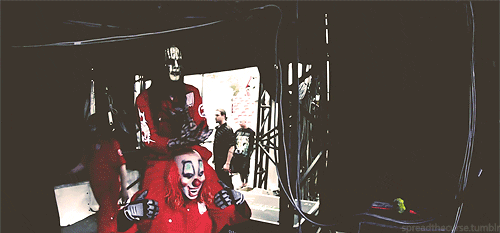 Pretty sure they travel two-two all the time.
'Aerials' by System of a Down was the closest thing you had to a power ballad
We're not Tankian the piss.
For seven years, Marilyn Manson was bigger than Satan
The God of Fuck reigned hard between 1996 and 2003-ish.
You wore a red New York Yankees cap in tribute to Fred Durst and for that you are deeply sorry
The 'Freak On A Leash' video (which you watched at least 100 times on MTV2) was a cinematic masterpiece
Side note: the beatboxing bit from 2.40 mins has to be one of the most demented things ever put out by a major label.
There was a time when Angelina Jolie was in a Korn video
Wait, whut?
It is excellent news to learn that there's a Slipknot tribute band from Newcastle and they are called Slipknowt
Impersonate and bleed.
The piano refrain at the end of System of a Down's 'Chop Suey!' is not at all overblown
Nope, totally necessary.
You remember Mushroomhead
Just kidding, no-one remembers Mushroomhead.
Looking back, it's not clear why 'Rollin" was such a big deal
The album from which it was taken, 2000's 'Chocolate Starfish And The Hotdog Flavoured Water', has sold over 20 million copies worldwide. Is there one lurking in your parents' house somewhere?
You wouldn't be surprised if Linkin Park were still releasing singles from 2000's 28-million-selling debut 'Hybrid Theory'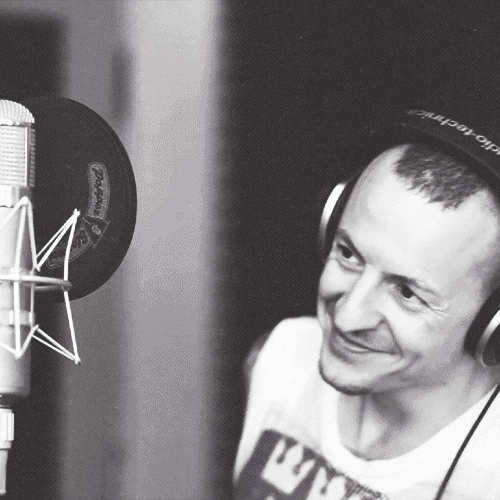 Oh, Chester, what are you like?
The opening lyric to Slipknot's 'Disasterpiece' is quite hard to forget
"I wanna slit your throat and fuck the wound." And we were supposed to grown into fully functioning, well-adjusted adults?
Well, nu metal, while you weren't always great – sometimes you were Rage Against The Machine and but mostly you were Limp Bizkit – you certainly made your mark.