American Horror Story is back and season seven is already shaping up to be as weird and scary as ever – and we're only one episode in. The latest instalment in the horror anthology show is set to tackle "the rise of a cult of personality", inspired by Donald Trump's own rise to political office and with the help of the programme's mainstay actors Evan Peters and Sarah Paulson, plus a cast of guest stars, newcomers and returning cast members (including Lena Dunham, Billie Lourde, Billy Eichner, Cheyenne Jackson and more). 
The seventh season has long been teased to be based on the 2016 US election and last night's premiere finally revealed its precise role in Cult's characters lives and, as creator Ryan Murphy promised, provided a jumping off point for a barrel full of fear. There were a lot of talking points to come out of 'Election Night', not least because it didn't make the trajectory for the rest of the series the slightest bit clear. But the main question we were left with is just what is Kai Anderson's (Evan Peters) connection to Ally Mayfair-Richards (Sarah Paulson)?
You might remember that Murphy shared a drawing of the fan favourites' characters for this season, calling their relationship a "love story for the ages". That led many to believe Peters and Paulson would play a couple this time round. However, that doesn't seem to be the case – Ally is married to Ivy, with whom she has a child, Oz. Budding cult leader Kai seems less than open to non-hetero ways of life, too (he sneeringly asks sister Winter (Billie Lourd) if she's "a dyke" at one point).
At first, it seems the only thing tying Kai and Ally together are their extreme reactions to the election results. The former blends Cheetos to a powder and covers his face in the orange ashes after thrusting his crotch against the TV. The latter has a meltdown, can be heard screaming "Fuck you, Huffington Post!" and is severely triggered for a ton of phobias by the results.
As the episode plays on, though, the two start to become more intertwined. He throws a latte on Ally in the street when she's trying to explain to Ivy why she voted for Jill Stein instead of Hillary Clinton, and Winter later becomes Oz's new nanny. While babysitting, she asks the child which of his mothers carried him during pregnancy and who his father is, and fans are certain this is a hint of a deeper link between the Anderson and Mayfair-Richards families.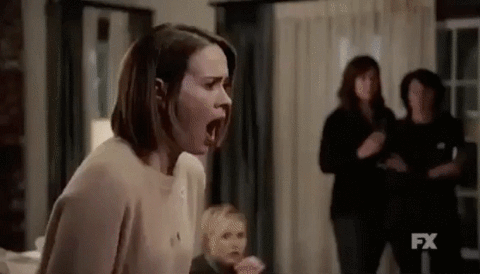 Although it's pure speculation at this point, one episode in, the theory goes that Kai was the sperm donor who helped create Ally and Ivy's son – something he has become aware of, but not them. As the series continues and his cult grows, the blue-haired Trump supporter will use his powers to convince a terrified-of-everything Ally to join up, making her believe the group can offer her safety.
We'll see if that's true in the coming weeks, but what does Kai hypothetically being Oz's dad mean for the kid? Will we see the seemingly innocent child reveal a nasty streak as the plot develops? It wouldn't be too much of a surprise even without Kai's genes – being shown snuff videos and then lifted up to the window of a house where your neighbours have either died in a murder-suicide pact or been slaughtered by a clown gang is bound to have an effect on anyone.
There's also a sub-theory that Oz is somehow related to Tate Langdon from AHS: Murder House, but, for now, we'll call that wishful thinking on the part of those wanting to link up each series.