Renae Brown from the Association of Independent Festivals explains why you can't access loads of festival websites today. It's for a good cause, trust us.
"The Association of Independent Festivals (AIF) is the UK's leading festival trade body representing, uniting and empowering just over 60 independent festivals. NME readers will no doubt already be familiar with many of our members, including the likes of Bestival, Secret Garden Party, End of the Road, Festival No. 6, Boomtown Fair, ArcTanGent, Standon Calling, 2000trees and many more. 
"On Monday May 8 all will be supporting our 'Safer Spaces' campaign – which aims to highlight a greater awareness of sexual assault, and will see more than 25 festivals take the dramatic step of blacking out their website for 24 hours, while more than 60 events in total have signed up to a Charter of Best Practice. 
"The blackout page will display a GIF with the following key messages:
Zero tolerance to sexual assault

Hands off unless consent

Don't be a bystander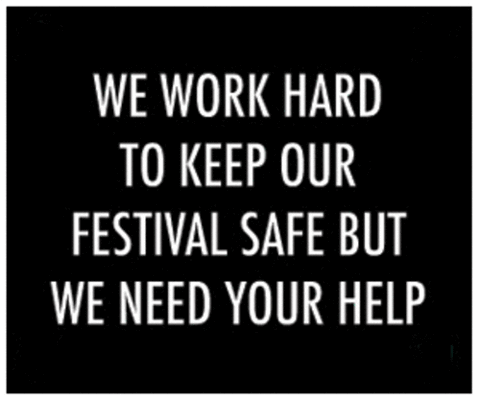 "Our members are supporting this because of a growing concern about sexual violence. More than half a million adults are sexually assaulted in England & Wales each year according to Rape Crisis England & Wales. There's no evidence or statistics to suggest that these crimes occur any more or less at music festivals. In fact, from our own annual audience survey, 93% of respondents did not experience any kind of crime at all when attending a festival-the categories included theft, ticket fraud and assault.
"However, against this background, and working with experts from Rape Crisis England & Wales, Girls Against, Safer Gigs For Women and the White Ribbon Project, event organisers want to reiterate their zero tolerance policy towards any kind of sexual assault. The campaign also aims to highlight the good work that many festivals are already doing to increase awareness or providing bespoke services and inspire other events to do the same.
"From personal experience as a young woman who's attended over 80 festivals, including a solo trip to Glastonbury and a few other events, I certainly feel a lot safer wandering around a festival campsite or arena compared to using public transport late at night.
"However, I also want to keep it that way. Festival-goers should be looking out for each other. If you see someone being a dick, call them out. Don't be a bystander. Get security, report them. Ask someone if they're okay. If your mate is making someone feel uncomfortable, call them out on it. Don't egg them on. Keep your hands to yourselves. If someone says "no", it means no. 
"Festivals are the best things about summer; you can escape from reality, see your favourite bands, discover new ones and make new friends. They're the best kind of adventure. Festival organisers have a duty of care for their audiences and will continue to make audience safety and welfare their top priority, but audiences should also have each other's backs in return. 
For full details of the campaign please visit www.aiforg.com or follow it on social media #saferspacesatfestivals