Priority Tickets are available for Drake's The Boy Meets World Tour from 9am on Wednesday, October 12. Search 'O2 Priority' for tickets.
When he's not making his mammoth album 'Views From The 6', or photoshopping himself on top of gigantic towers – Drake spends much of his leisure time at his hometown Toronto Raptors' basketball games. His brand OVO became global marketing ambassadors for the team in 2013 due to his loyal support of the team and the side have be rewarded with a rise in form and in profits.
READ MORE: 'Views From The Six' Release Date, Tour Dates And Everything You Need To Know
As a result, the Canadian rapper has managed to nab himself courtside seats for the Raptors' games, akin to Jay Z at the Brooklyn Nets and Jack Nicholson at Los Angeles Lakers. Since taking up the elite seats, he's provided us with a set of incredible moments where we see Drake act like any human would if they were allowed to sit six feet away from their favourite sports team. Take a look at Drake's best moments at his many, many Raptors games over the last few years.
The time he used a lint roller for all to see
We feel you, Drizzy. When we get ready to leave home clad in black, we just know that there's a frightening combination of animal hair, fluff and more for all to see. But we tend to use a lint roller before we leave home – not sat courtside at a nationally televised basketball game, as much as we would like the opportunity to do so. Check him having a good brush down in the top right of the video below.
The time he danced to his own song with his mum
Drake's tunes and attitude have been harvested by the organisation and the city as the rapper continues to make Toronto one of the coolest cities to live in North America. Dancing to your own tune sat next to your mum – not so cool. Hilarious though.
https://vine.co/v/iz3AZDmYYKE/embed/simple
The time he tried to distract an opposing player
Being one of the hottest rappers in the game, a lot of the players look up to Drake. Although he has tight bond with Raptors players already, that hasn't stopped him trying to make 'friends' with opponents though. In a game against the Chicago Bulls back in March, Drake was caught mouthing off to Bulls player Justin Holiday – and it resulted in the Bulls committing a violation and losing the ball to the Raptors. Holiday insisted that this had nothing to do with the distraction, but we like to think it was just because Drizzy got in his head.
Drake double-teams Bulls' inbounds pass to force 5-second violation pic.twitter.com/X5X8pjUBzM

— Ben Golliver (@BenGolliver) March 15, 2016
READ MORE: The Internet Had Fun Making Memes Of Drake's New Album Cover
The time he wore a hideous hipster jumper
Usually Drake is found on the sidelines rocking Raptors gear or clobber from his own line with Jordan, but in 2014 he went full hipster with a awful sweater/glasses combination. Unintentionally funny on his part perhaps, but funny nonetheless.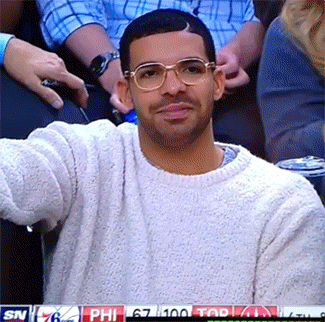 Drake looks like a mom that doesnt want to take sides when two of her sons are arguing. pic.twitter.com/RHM8NQyu8a

— KANYE A5ADA (@5ABIOmatic) November 10, 2014
Drake looks like a mom that doesnt want to take sides when two of her sons are arguing. pic.twitter.com/RHM8NQyu8a

— KANYE A5ADA (@5ABIOmatic) November 10, 2014
The time he commentated on a game
Drake is often one to talk trash to opposing players on social media – but in January 2016 he managed to nab himself a slot on the SN sports channel commentating on a Raptors game. Following the release of his single 'Summer Sixteen' earlier that day, he stuck on a commentating headset and gave us five minutes of gold, "It's funny when you put this headset on basketball lingo just starts flowing. I'm telling you, I can get used to this, man." Career change? Hopefully not quite yet…
https://www.youtube.com/watch?v=vUh7it5Un60
The time he almost broke his hands clapping
Last night (April 26) he was up to his old tricks again celebrating the opposing team losing possession of the ball. As Indiana Pacers guard Rodney Stuckey fell out of bounds during a playoff game with the Raptors, Drake offered no help to the falling Stuckey and instead celebrated the mistake by clapping harder than anyone has seen before. Must have put him off though, because the Raptors went on to win the game.
Drake has no chill https://t.co/2IUrCOhNEu

— jimmyist⁶ (@jimmyist) April 27, 2016
READ MORE: From The NME Archive: Drake Talks Sex Tapes, FIFA and Dalston Nights Out