Last night (September 18), the good and great of US television gathered to celebrate the last year of drama, comedy and sublime acting. There were the usual predictable wins – Game Of Thrones sweeping the boards with 12 victories was a safe bet – but there were also a few surprises along the way.
Beyoncé losing out to Grease! Live
Despite being nominated for four awards, Beyonce's highly acclaimed HBO special 'Lemonade' was eventually snubbed when it came to dishing out the prizes. It lost out to Grease! Live for Outstanding Directing In A Variety Special and The Late Late Show Carpool Karaoke Primetime Special for Best Variety Special. Still, maybe Bey will use her losses to coin the saying 'when life gives you lemons, make 'Lemonade 2".
Maggie Smith winning despite not being that great
Maggie Smith might be a formidable actor, but her role in the last series of Downton Abbey wasn't her at her prime. According to those in the room, laughter broke out when it was announced Smith had won the Best Supporting Actress In A Drama Series award, although we'd hazard a guess Game Of Thrones stars and some of her fellow nominees Maisie Williams, Emilia Clarke and Lena Headey might not have found it quite so funny.
There was laughter in the house when Maggie Smith won. And not the good kind. #Emmys2016

— Lynette Rice (@Lynetterice) September 19, 2016
John Oliver stealing Comedy Central's thunder in the talk show category
It had been nearly 20 years since the award for Best Variety Talk Series went to a weekly show and almost as long since it went to one not on Comedy Central. John Oliver's Last Week Tonight changed that, beating big hitters like The Late Late Show With James Corden, Jimmy Kimmel Live! and The Tonight Show Starring Jimmy Fallon to bring glory to HBO.
Tatiana Maslany beating strong competition for the Best Actress In Drama Series award
The star of Orphan Black, a sci-fi thriller which follows an English orphan assuming the identity of her dead clone, was very much an underdog when the Emmys nominations were announced. Listed in the Best Actress In A Drama Series category, she was up against the likes of Clare Danes (Homeland) and Taraji P. Henson (Empire) for the gong. The TV Academy obviously recognised her formidable talents, though, voting her the category's eventual winner.
The People vs O.J. Simpson: American Crime Story dominating the night
Game Of Thrones wasn't the only show to win big at this year's ceremony. The People vs O.J. Simpson: American Crime Story, which showed one of the US's most infamous court stories from the lawyers' viewpoints, won four awards, including Best Limited Series. In the process, it beat competition from strong contenders such as Fargo and The Night Manager.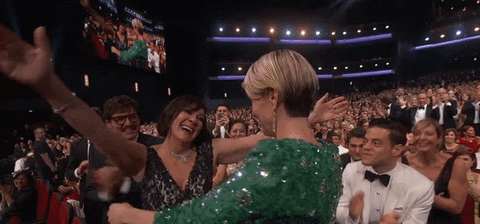 Jimmy Kimmel's ill-advised Bill Cosby joke
At one point during the ceremony, alleged serial rapist Bill Cosby was announced to be coming out on stage. The cameras panned to the audience, finding a lot of horrified, confused and shocked faces. Tina Fey appeared to mouth "This has got to be a joke" and thankfully it was. Instead, Kimmel himself walked out and told the audience "Don't worry, he's not really here. I just wanted to see what you guys would do."