On Sunday Taylor Swift dropped her new video for fiery comeback single 'Look What You Made Me Do' at the VMAs; and as expected the tea has been well and truly been spilt.
Every aspect of the video has been thought through, referencing Taylor's infamous beefs, past videos and poking fun at her previous self.
But did you manage to spot every reference included in the video? Which of these did you see?
The 'Out Of The Woods' dress
As zombie Taylor prances around a graveyard, if you look closely you'll see that the muddy dress she's wearing is the same as the one she wore in the 'Out Of The Woods' music video, the last video from her '1989' era; possibly another sign that that era of Taylor is dead?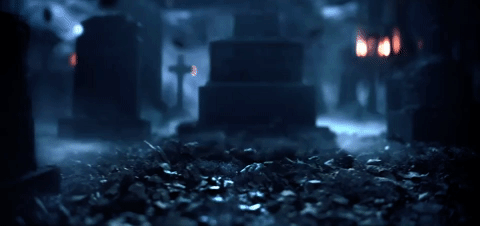 Nils Sjoberg
"The old Taylor can't come to the phone right now. Why? Because she's dead".
Well it looks like the old Taylor includes her pseudonyms, as in the opening, as a dead zombie-fied Taylor appears in a graveyard, we see a tombstone with 'Nils Sjoberg' on it. This is the pseudonym that Swift wrote under, when involved in co-writing her ex-boyfriend Calvin Harris' Rihanna collab ' This Is What You Came For'. When it was reportedly leaked that Taylor was involved in writing the track, Harris went on a Twitter rant calling out Taylor for her beef with Katy Perry.
https://twitter.com/archivetay/status/901973626781650944
$1
In one scene Taylor lies in a bathtub full of jewelry, and next to her is a single dollar bill. This could be a reference to the single dollar bill she won in her sexual assault case against radio DJ David Mueller.
Taylor included the symbolic dollar that she won in her trial. pic.twitter.com/aUARoS9UDq

— Harry & Taylor Updates (@HaylorSource) August 28, 2017
Snakes serving tea
The snake has become an ongoing reference in Taylor's latest music drop – first with the snake videos across her social media accounts, and now in this video. Fans are speculating that it's a reference to the snakes that got posted on her instagram following her fall out with Kimye; and in one scene in her music video, the snakes literally serve her tea (the tea could be a reference to an Instagram that Kim's Kardashian's half sister Kendall Jenner posted saying "tea time")
Taylor swift receiving tea from her snake is one of the most iconic things ever ☕️ pic.twitter.com/6xZIG5wCSU

— crystal ☽ (@swiftistrouble) August 28, 2017
Maserati down a dead end street
Taylor then crashes a gold Maserati which she is driving down a dead end street – a reference to the titular song from 2012 album 'Red', where she sang: "Loving him is like driving a new Maserati down a dead-end street". The door then opens, and you see Swift clutching a Grammy – perhaps a reference to a fact this record didn't win Album of the Year in 2014.
"drivin' a new maserati down a dead end street"
it's a maserati, &a she's holding the grammy. taylor is saying red deserved a grammy. pic.twitter.com/IhI9JKppZL

— olivia? (@reputaylortion) August 28, 2017
Katy Perry style
Or could that scene be a reference to Katy Perry and their ongoing beef? The grammy could be a reference to the fact that Taylor has won a tonne, and Katy has always failed to win one? Taylor is also sporting an angular crop and a flashy leopard print coat, styles that bare a certain similarity to Perry's. Also – the video is reminiscent of Katy's 'Waking up in Vegas' video.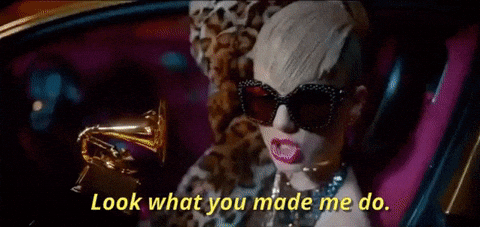 Stream Co.
Taylor and her squad break into a bank vault, and if you look carefully you'll see that it has the name "stream co." in the background – a reference to her turbulent relationships with streaming services in the past.
Did you notice Taylor robs Stream Co. in the #LWYMMDvideo ? pic.twitter.com/yZ7oW9evPs

— Rare Releases (@RareReleases) August 29, 2017
I, Robot meets Girl Squad
In one scene, Taylor stands in front of an army of models – poking fun at the criticism she gets which says her squad is only formed by models:
#LWYMMD
"Taylor Swift squad is formed just by models" pic.twitter.com/TOIdWmcdRl

— sara stands with Taylor? (@herestomyswift) August 28, 2017
It could also be reference to that scene in 'I, Robot' where hundreds of robots assemble in a similar fashion.
Taylor Swift took me from a grave, to a Harley shop to a scene from I, Robot and now I'm confused

— ᵀʳᵉʸ (@RealTr3y) August 28, 2017
I heart TS shirts
An obvious one here – Taylor's dancers are wearing 'I heart TS shirts' that bear a striking similarity to the one that Tom Hiddleston infamously wore during their short relationship; but another more subtle reference that some fans are picking up on is the eight dancers – is that one for each of Taylor's famous exes?
her boyfriends are stunted so they're wearing earpieces and a i heart ts shirt SHE'S SO FUNNY pic.twitter.com/whWAzX5BuH

— mona (@taykyoswift) August 28, 2017
Old versions of Taylor Swift
Towards the end of the video we see various incarnations of Swift over the years. First is this scenario – which again looks like Taylor is making a statement about how these old versions of her are dead.
one of my Fave parts of the #LWYMMDvideo ? the old Taylor swifts are dead! pic.twitter.com/2zKVZN9rhq

— Meryll Diane T. Rapio (@merylldiane_) August 28, 2017
And then again in a lineup at the very end – where we see Swifts past and present.
The old taylor swifts. 🙁

"Let me remind you, this was what you wanted. You ended it.
You were all I wanted, but not like this" pic.twitter.com/cXy9R5E93T

— The Ian (@ianvntr98) August 28, 2017
You belong with me shirt
When we see the 'You Belong With Me' she's wearing the 'junior jewels' shirt; but this time it's covered in the names of her infamous "squad" including Selena Gomez, Blake Lively and Ryan Reynolds, and the Haim sisters; we also see a reference to the "Taylor Swift Surprised Face" – which has been criticised and called fake over the years.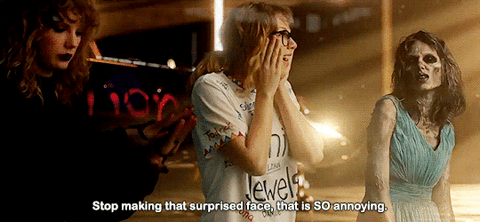 Getting receipts
As Taylor dressed in a cheetah jacket takes selfies, another Swift asks what she's doing. "Getting receipts! I'm gonna edit this later," she declares – a direct jab at Kim Kardashian, and how she released a video of Taylor on the phone with Kanye as 'receipts'.
"what are you doing"
"getting receipts. gonna edit this later"

TAYLOR ENDED STAN TWITTER pic.twitter.com/fXJnxoSwiX

— hannah the bee (@swiftcIarke) August 28, 2017
"I would very much like to be excluded from this narrative"
Possibly the most direct throwing of shade throughout the entire video. At the very end, when a lineup of Taylor's past and present stand together, the Taylor who's dressed in her 2009 VMAs frock (the infamous event where Kanye jumped on stage halfway through Swift's acceptance speech for best female video) declares "I would very much like to be excluded from this narrative" a direct quote from when she responded to Kim Kardashian leaking the video of Kanye asking Taylor about being mentioned in his track 'Famous'.