We pretty much live for Kanye's tweets. Whether he's discussing his sex life, praising himself as all-time great or mocking novelty EDM producers (ha! Kanye West dissing someone for being ridiculous), he's an essential follow. But don't just take our word for it. In this new clip published by Vanity Fair, YouTube star Tyler Oakley attends the The Vanity Fair Oscars Party and invites some of the biggest screen stars in the world to recite the rapper's missive in dramatic fashion.
Patrick Stewart does this weird, halting reading, while James Corden, Hilary Swank, Kate Hudson, J.J. Abrams, comedian Mindy Kaling also get stuck into the ludicrousness, along with loads more celebs.
Yeah, Patrick Stewart pretty much stole the show.
https://twitter.com/kanyewest/status/702564982853074944
There are some other decent efforts though – Star Wars director JJ Abrams also provides a mysterious re-imagining of this tweet.
https://twitter.com/kanyewset/status/566411924821114880
We must point out that this tweet is actually from a parody account (@kanyewset), but it definitely seems like something Kanye would say, right? And JJ, stop being so modest – we've seen the new Star Wars, you're most definitely talented.
Kate Hudson however absolutely nails her tweet and may have just created a new sassy reaction GIF too.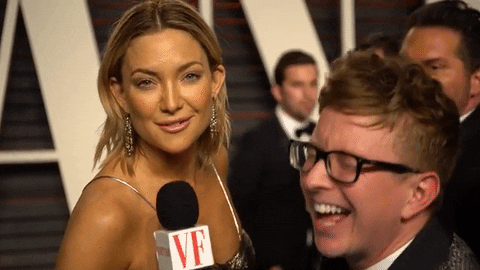 Talk show host Conan O'Brien gives off some very creepy vibes in his turn, as does actor Will Arnett and both Mindy Kaling and Hilary Swank seem like they've practised their rather successful attempts at bring Kanye's tweets to life before. All in all, some pretty great attempts.
It's a surprise they didn't do this one though…
https://twitter.com/kanyewest/status/692967570740224001