Occasionally I meet someone who doesn't like the Spice Girls, and I cease all interaction between us because seriously how can you trust someone like that? And it turns out the rest of the world agrees, because now The Global Goals for Sustainable Development are using 90s girl power to spread some very important messages about gender equality. Released last night, a brand new music video to accompany 'Wannabe' encourages people around the globe to let world leaders know #WhatIReallyReallyWant to help achieve gender equality.
http://www.youtube.com/watch?v=sZQ2RUFd54o
The video still has many of the original features, like dance routines: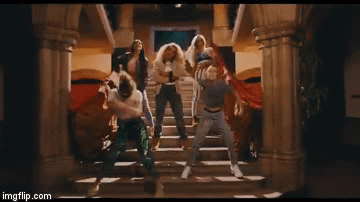 And crop tops:

But with a few more important messages, like "end violence against girls", "quality education for all girls", "end child marriage" and "equal pay for equal work".

Original Spice Girls Victoria Beckham, Mel C and Emma Bunton have tweeted their support for the video:
20 years on – Girl Power being used to empower a new generation. So proud of @TheGlobalGoals #WhatIReallyReallyWant https://t.co/mZx8QePJQE
— Victoria Beckham (@victoriabeckham) July 5, 2016
As have feminist campaigner Emma Watson and chef Jamie Oliver:
The video features international performers like Jacqueline Fernandez, Seyi Shay, Gigi Lamayne, Moneoa, M.O, Taylor Hatala and Larsen Thompson.