This blog contains lots of spoilers for Game of Thrones season 6, episode 4. If you haven't seen it yet, go and watch it, then come back again: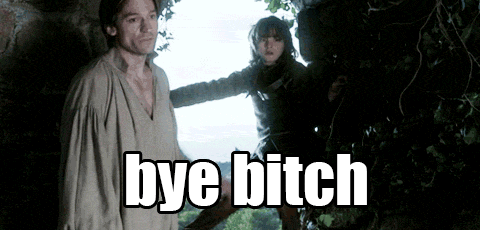 Forget about Daenerys burning down a hut full of powerful Dothraki warriors and emerging as some sort of goddess. Forget about Ramsay stabbing Osha with that toothpick knife like she was some kind of canapé. Forget even the moment Jon Snow and Sansa reunited – the first time any of the Starks have seen each other since season three – because the prospect of this unlikely relationship is what fans are talking about the most. It's a leftfield one, but it makes a lot of sense too – and it involves Tormund Giantsbane, one of the wildling leaders who Jon Snow helped cross the wall. If you don't really remember him, here are some of his best qualities:
Tormund is strong: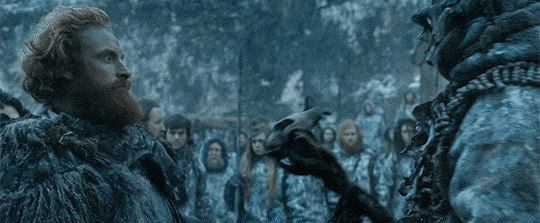 That's him beating the Rattleshirt (aka the Lord of Bones) to death after Rattleshirt insults him. Rattleshirt was a scary and well respected wildling, but Tormund didn't care.

Tormund is funny:
Tormund: "What kind of god would have a pecker that small?" ??#GameofThrones #JonSnowLives pic.twitter.com/Eq5Y7wGMkV

— Jon Snow (@JonSnowy_) May 9, 2016
This is just after Jon Snow's risen from the dead and everyone is freaking out. Tormund doesn't freak out.
Tormund has strong opinions on sex:
This is how not to do it, he says: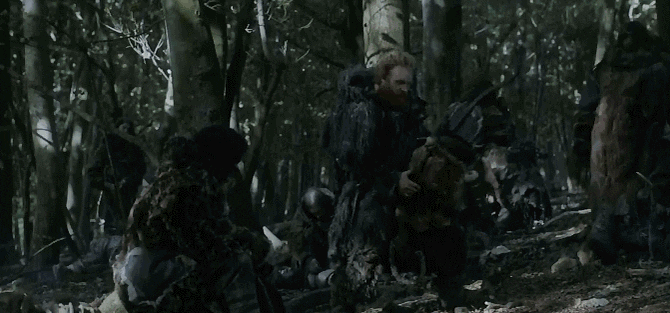 "Most men fuck like dogs," he tells Jon, with the above demonstration, before going on to talk about seals and pigs. It's quite nuanced – you really need to hear it from him:
So that's Tormund. Now here's the moment he first lays eyes on Brienne of Tarth, the badass warrior who spent three seasons looking for the Stark girls and beat the Hound in a fist fight. She's just arrived at the Wall with Sansa and Tormund just can't take his eyes off her.

Then here's him flirting outrageously with Brienne later in the episode:

http://giphy.com/gifs/IIudLNovH8aQM
Wait, no, watch it again. Is this how he's trying to impress her?
had to gif the sexiest scene in the entire series (SPOILER sorta) #GameofThrones pic.twitter.com/1ZtUBfaPrF

— Saladin Ahmed (@saladinahmed) May 16, 2016
Fans are loving this potential couple, who they're calling Torienne (or Brimund) – probably because it unexpectedly pairs up two of the most brutal names in the show. And who would have seen it coming two years ago? Not these guys:

Brimund or torienne #gameofthrones pic.twitter.com/alxltA9hIg

— Thoros of Myr (@Blitzcreek1) May 16, 2016
Brienne + Tormund = Torienne or Brimund
My favorite part of the episode ? #GameofThrones pic.twitter.com/IvfMyUxxhZ

— Siham Abdelnour (@Vennusfaerie) May 16, 2016
Damn @GameOfThrones! All that's going down and all I can think is Brienne/Tormund is everything I never knew I wanted. #Briemund? #Torienne?

— (((Jonathan Lee))) (@iamlejo) May 16, 2016
The Tormund and Brienne chemistry was so real! #GameofThrones #lovestory #Torienne #Brimund

— Jacquiroo (@Jacquir9) May 16, 2016
Tormund crushing on Brienne has gotta be the best thing ever.. #GameofThrones ? pic.twitter.com/ETeWIkmViy

— Camila Morales (@kmilitamn) May 16, 2016
Tormund when he sees Brienne #GameofThrones #Brimund #Torenne pic.twitter.com/oWU2FR7arK

— Khaleesi ? (@thegamergoddess) May 16, 2016
Ok but is it gonna be "Briemond of Giantsbane" or "Torienne or Tarth" or what. #gameofthrones

— Renfamous⭐️ (@renfamous) May 16, 2016
I am officially shipping Brienne of Tarth and Tormund Giantsbane. #Brimund #Torienne

— Mr. Towner (@mrtowner) May 16, 2016
Hashtag shipping the hell out of Torienne #gameofthrones

— Molly Templeton (@mollytempleton) May 16, 2016
What do you think? Is it a perfect match?