Spoiler alert: do not read on if you have not seen Game of Thrones' season six finale. We don't want you getting like this: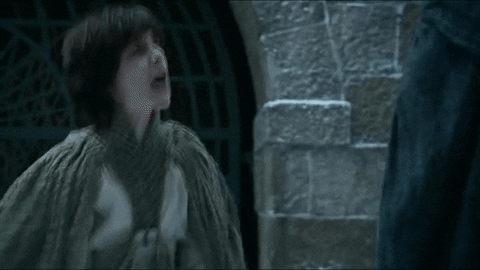 After the final episode of Game of Thrones season six, it was all but confirmed that, as fans put it, R+L=J. Let me put that theory in normal-person terms: Rhaegar Targaryen (Daenerys Targaryen's brother) and Lyanna Stark (Ned Stark's sister) had a secret baby together, and that baby was Jon Snow – the boy who has been living under the impression that he was Ned Stark's bastard son for his whole life.
In the final episode of the season, we found out that this theory was at least partially correct: Lyanna Stark was indeed Jon's mother, but there was no mention of Rhaegar, a character who hasn't yet appeared in the show's flashbacks and who most of the show-only audience will have no idea about. Perhaps that's why the creators thought it best to introduce Rhaegar later on in the story – but HBO has decided differently, offering something to fans of the books that will confirm the most laudable theory they've ever supported. That something is this Gordian Knot of a family tree. Check it out below, and click on it to make it bigger:


Another thing you'll notice is the 'confirmed' death of Rhaenys and Aegon Targaryen at the hand of The Mountain – these guys would have been Jon Snow's brother and sister, had they lived to tell the tale. Readers of George R.R. Martin's books will be aware that there is a character calling himself Aegon that may have survived The Mountain's onslaught after being swapped by Varys for a similar-looking baby; he was later sent to Essos. Many book-readers believe that this Aegon is a false pretender, someone who was simply brought up as Aegon Targaryen – but either way, it looks at this point as though this character, Aegon or not, may have been cut from the show completely.