It's hard to imagine how Glasvegas could top themselves after performing at a wedding chapel in their namesake city, Las Vegas, a couple of weeks ago. But they came pretty darn close Friday night (June 12), when they delivered an intimate, acoustic set at the Hollywood Forever Cemetery in Los Angeles.
As if Glasvegas weren't atmospheric enough, imagine them playing in the midst of an old gothic graveyard in the heart of Hollywood where everyone from Johnny Ramone to Cecil B. DeMille is buried. Now picture the band stripped down from a four-piece to a duo comprising cousins James and Rab Allan, softly strumming their respective instruments while an angel with a broken heart carved out of ice hovered above them.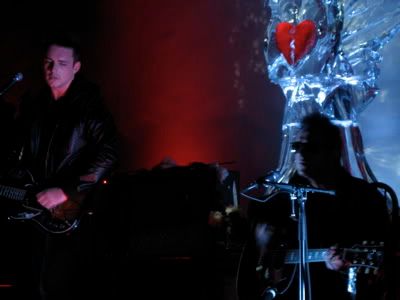 This was the dramatic scene when the Glaswegians returned to Los Angeles for a one-off gig. It was a civilised affair, which saw the lucky few who scored tickets (including members of OK GO and Bauhaus' David J) mingling in the foyer sipping wine and listening to soft jazz before the show began. Soon the doors to the theatre opened, revealing a red velvet curtain pulled across a small stage in the dark wood-panelled room where funeral services were once held.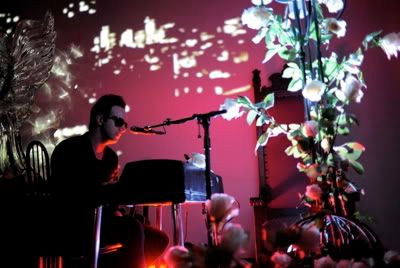 Kicking things off with a mesmerising version of 'S.A.D. Light', James and Rab seemed completely at ease even without their bandmates backing them up. Although the absence of bassist Paul Donoghue and drummer Caroline McKay was palpable, we soon realised this was a different animal – a bare-bones, quieter version of the band with no rhythm section to hide behind.
This didn't stop one cheeky punter from piping up, "Where's the rest of the band?" but this didn't faze them as they carried on to deliver gorgeous renditions of tunes such as 'Stabbed', which they rarely play live. During this song, they invited their friend, Paul Cantelon, on stage to play classical piano, creating a beautifully eerie vibe in the hall.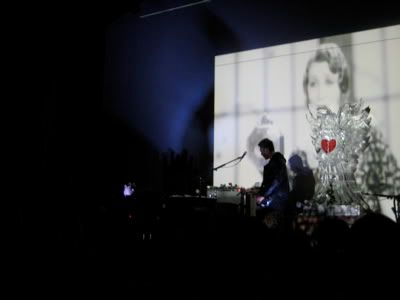 The duo went on to play slowed-down versions of crowd-pleasers 'Flowers & Football Tops' and of course 'Geraldine' before closing with 'Daddy's Gone', but not before James repeatedly professed his love of Los Angeles.
Judging from the buzz created by these unusual gigs and the fact that the band have been hand-picked to open for arena giants U2 and Kings Of Leon this summer, Glasvegas' star is definitely on the rise – even on this side of the pond where we can be ridiculously slow to catch on.