Today is Mean Girls Day. It's not the day the high-school comedy was released though. No, in the film itself, it's the day Lindsay Lohan's protagonist Cady is asked by her crush what the date is. From then on it gains a 'Dear Diary' significance:
In the 12 years since its release, the film's become a pop-culture totem thanks to the many memorable lines spoken by its crew of mean 'Plastics' and the real friends Cady should have been hanging out with the whole time – Janis and Damian. You see quotes like these all the time…
1. 'Stop trying to make fetch happen'
To be used when that one friend won't stop suggesting a terrible idea over and over again. The meanest girl in school, Regina George, has had enough of Gretchen's 'slang' and decides to put a stop to it. It's not going to happen, Gretchen.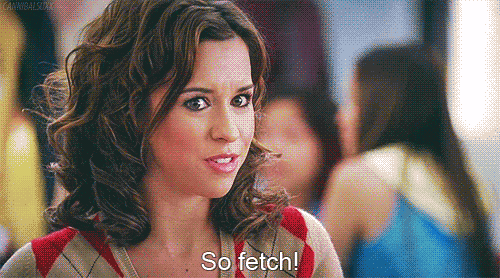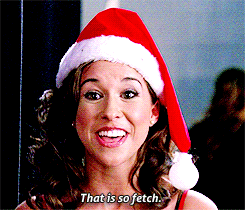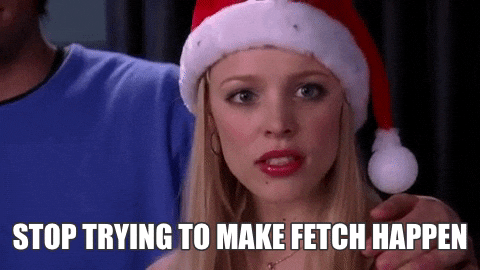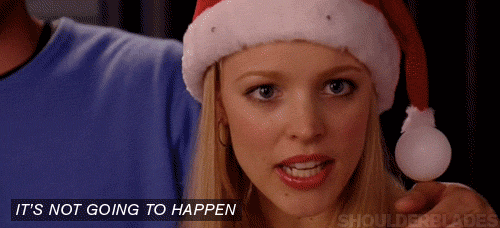 2. 'The limit does not exist'
When you solve a really difficult problem and feel proud of yourself, but the answer is also totally relevant to your life – that's when you should use these words, spoken by Cady when she figures out Mathletics and herself at the same time. The epiphany GIF for all occasions.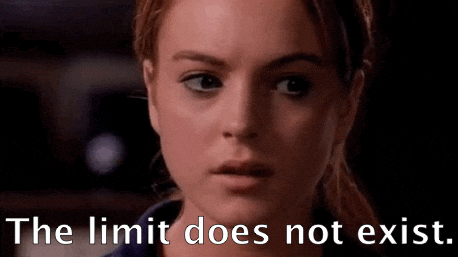 3. 'You can't sit with us!'
After being secretly fattened up by Cady's nutrition bars, Regina George doesn't fit into her clothes any more so shows up in trackies. This breaks the rules of the Plastics, rules Gretchen takes very seriously. That's why the quote is so great: it's so aggressive, but it's also a weird shift in the balance of power of the film.
http://giphy.com/gifs/LNHh2jatgredq
4. 'You can walk home, bitches'
Immediately after Gretchen's rejection of Regina, she says this line. This one's useful when you have to be the designated driver at a wedding or something and your friends are being ungrateful.
http://giphy.com/gifs/2ZE9ie6KZbOx2
5. 'Why are you so obsessed with me?'
Regina George: a model of infuriating narcissism. Tina Fey wrote this amazing character, and this is the perfect kind of line should make her proud of her creation.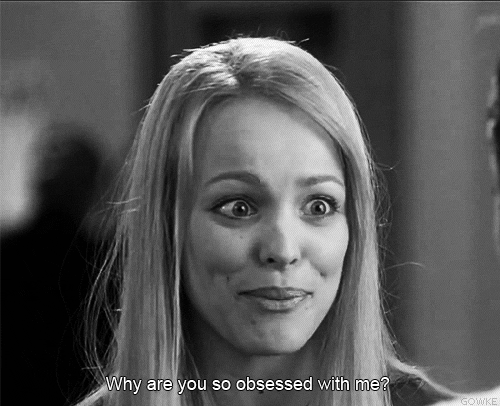 6. 'On Wednesdays, we wear pink'
You might see this caption for Instagram squads. If you're wondering, it's a line spoken by Amanda Seyfried's slightly fey and definitely stupid character, Karen.
7. 'She doesn't even go here'
You'll have heard this many, many times. No explanation necessary.
http://giphy.com/gifs/56nUBrLojGWcg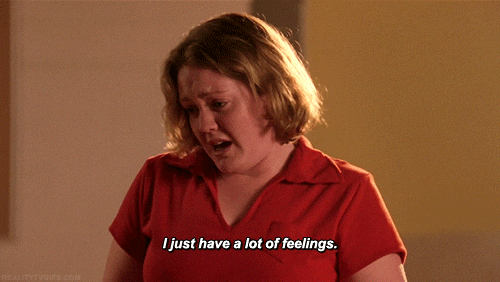 8. 'Sometimes older people make jokes'
This is the GIF your parents use whenever you don't get what they're talking about because they're being uncharacteristically jokey.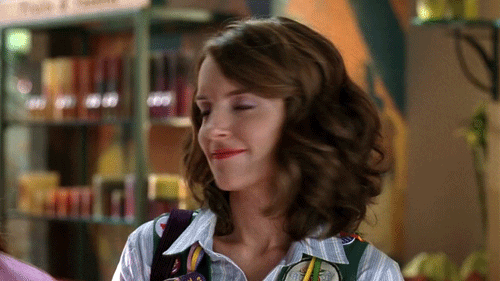 9. 'Wanna go to Taco Bell?'
A beautiful scene: Karen asks if Regina wants to cheer herself up by going to Taco Bell. Gullible Regina – who Cady's managed to convince to go on an 'all-carb diet' to lose weight – tells Karen she can't go because she can only have carbs. "God Karen," she says, "you're so stupid". It's wonderful.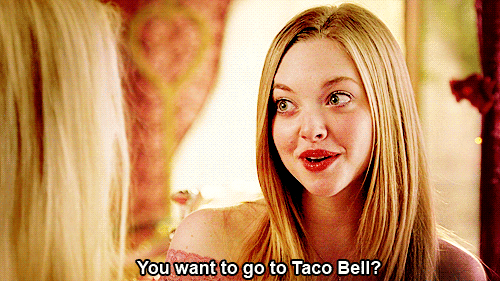 10. 'What are you?'
The perfect reaction to a weird Halloween costume. Says it all, really.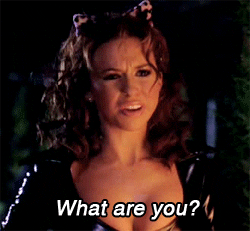 11. 'I am such a good friend'
Needy, unimaginative Gretchen is nothing without a Regina to comfort. Her friendly qualities are really a product of her dependence on other people rather than her innate good nature. You can basically thank Mean Girls for teaching a generation of kids what irony is.