Singer-songstress Miranda Lee Richards has long been a regular on the California circuit. She learned to play guitar from Metallica's Kirk Hammett; she's worked with Jon Brion, L.A. transplant Tim Burgess, and Beck's dad, David Campbell; she was once a member of the Brian Jonestown Massacre (you may remember her from the white-robed scene in Dig! when she stares into the camera and implores to batshit-crazy BJM frontman Anton Newcombe, "Don't die"); and she stood in for Mazzy Star's Hope Sandoval during the Jim Reid duets when the Jesus & Mary Chain played their recent Los Angeles reunion shows.
She's a true (and truly awesome) L.A. woman.
So naturally Silver Lake's Spaceland club was packed last night when Miranda played the final Tuesday of her month-long residency there (in support of her new, Laurel Canyon-evoking folk-rock album, Light Of X). Even Miranda's mother, San Francisco comic book artist Teresa Richards (who was celebrating her birthday last night), was in the house.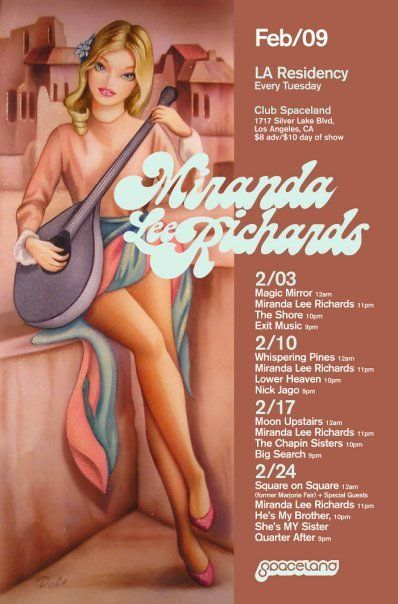 Here's Miranda at Spaceland playing "Life Boat," which incidentally was released last year in the U.K. as a vinyl single on Sonic Cathedral:
http://www.youtube.com/watch?v=K8ND8STUDWI