We've nearly reached the day when 2016 finally gets good and there's some light in among the darkness. It is, today (October 25), exactly one month until the new episodes of Gilmore Girls are available on Netflix – and the streaming service has just shared the first proper trailer for the four 90-minute episodes.
Yes, there was a teaser earlier in the year, but that is nothing compared to this, a full-on two-and-a-half minutes of Gilmore goodness that raises as many questions as it answers. Here's what the trailer will teach you while you wait for those 360 minutes of Gilmore goodness.
There's a wall-sized portrait tribute to the late Richard Gilmore
"It's safe to say that the death of Richard Gilmore, the death of [actor] Ed Herrmann, looms large over everything," creator
Amy Sherman-Palladino
told
Entertainment Weekly
of the new episodes earlier this year. Turns out she meant literally as well as figuratively because Emily's had a wall-sized portrait of her dear husband put up on the lounge. Lorelai and Rory are, as you'd expect, suitably disapproving.
Rory might not actually be a world-conquering journalist after all
When the seventh season ended, Rory was hurrying off into the world to follow Barack Obama on the campaign trail. It was, as she said, only for a small online magazine, but it felt like her first step onto journalistic greatness. That might not actually have been the case after all, though. Here, she's jobless – but in the best way. "This is my time to be rootless," she says as things cut to shots of London and New York. Later, she tells Jess "I'm feeling very lost these days. I have no job, I have no credit, I have no underwear. I could have been a contender!"
Luke is still failing to make Lorelai and Rory eat healthily
You'd think Luke would've given up trying to put some goodness into the women's diets by now, having begrudgingly served them pancakes, chilli fries and burgers at his diner for all those years. Apparently not, though, as one part shows him cooking in Lorelai's kitchen, refusing to make tater tots and telling Rory off for eating mini doughnuts with her tacos.
Emily looks weird in a t-shirt and jeans
In the original run of Gilmore Girls, it was very, very rare to see Emily Gilmore not perfectly turned out and dressed to the nines, even if she was just going about her business at home. So it's really weird to see her here in jeans and a t-shirt – like when you see your teacher in their pyjamas on a school trip. It just feels wrong.
Lorelai isn't married, but she and Luke are together
As Lorelai and her daughter sit at the table, eating Pop Tarts and drinking coffee (more GG staples), you can clearly see no wedding ring on her finger. There's still the chance that speculation about Lorelai and Luke getting married in the new episodes is correct – the two are clearly still together from the clips in the trailer, although they might be having trouble. One scene shows Lorelai in what looks like a therapist's office. "We're happy. Luke and I are happy," she says, the look on her face suggesting she doesn't totally believe that."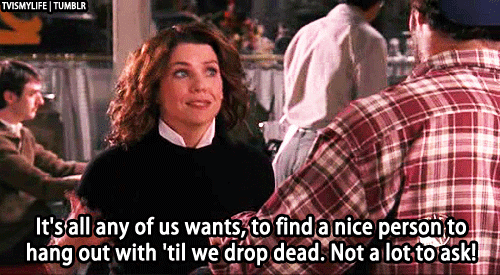 Every Gilmore Girl is at some kind of crossroads in their life
Rory is trying to find her way with work, Lorelai seems to be working some things out in her relationship with Luke, and Emily is recently bereaved ("I was married for 50 years. Half of me is gone," she says). Expect these new episodes to follow them as they try and figure everything out, whether that be by travelling the world or throwing out their dining room chairs.
Lorelai and Rory are still over-ordering takeout
If the original seven series of Gilmore Girls showed plenty of one thing, it was Lorelai and Rory ordering tons of takeout. Nothing seems to have changed on that front. "Did we order Chinese, Greek and Italian food last night?" asks Lorelai at the start of the trailer. "And hot dogs," adds Rory. Good to know that getting older doesn't necessarily make you wiser or weaken a cast iron stomach.