Peaky Blinders makes its return to TV screens for its fourth series later this month, bringing with it a new handful of great tunes as part of its beautifully anachronistic soundtrack. Here we take a look at 10 outstanding soundtrack choices from its three-series run so far. Note that the Netflix version loses most of these hits due to licensing issues, and beware spoilers…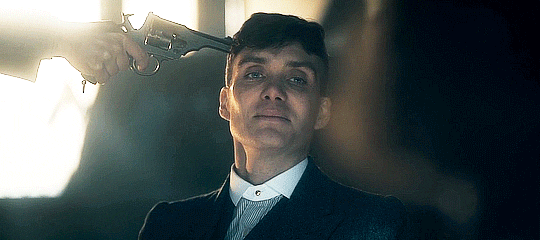 1. 'Red Right Hand' – Nick Cave & The Bad Seeds
When it's used: It's only the bloody theme tune
Why it's perfect: It sets a seedy, shuffling tone for this melodramatic tale of Brummie criminals known as the Peaky Blinders (named thus because they kept razor blades in their caps, and with which they used to do a bit of the titular blinding). "Hidden in his coat is a red right hand" is a distinctly apt lyric – and the gothic, inherently dangerous melody has a looming, bluesy gait that opens up the soundtrack to all the possibilities below, despite the show's 1919 setting.
2. 'The Hardest Button To Button' – The White Stripes
When it's used: Season 1, Episode 2 – After Inspector Campbell carries out a raid looking for 'Communists', Tommy responds by burning pictures of the King.
Why it's perfect: The actual song is about a little boy being ignored by his family, and Jack White's resentful whine mirrors Tommy's childish response to Campbell.
3. 'Broken Boy Soldier' – The Raconteurs
When it's used: Season 1, Episode 4 – Another raid by Campbell, this time more aggressive than before. He only finds whisky and cigarettes, the chump.
Why it's perfect: Jack White's here again to soundtrack a raid, but here the music is, suitably, more aggressive. The lyrics, too, fit the struggle between Tommy and Campbell: "The boy never gets older."
4. 'Love Is Blindness' – Jack White
When it's used: Season 1, Episode 6 – Right at the end of the series, Tommy writes to his girlfriend, the undercover Irish agent-gone-rogue Grace, saying he'll decide whether to come to New York with her in three days. Meanwhile, Inspector Campbell arrives at the station pointing a gun at her. It's pretty dramatic.
Why it's perfect: A Jack White pattern is emerging, and justifiably so. His cover of U2's song is as explosive as the series' final moments.
5. 'Danny Boy' – Johnny Cash
When it's used: Season 2, Episode 1 – Tommy's hiding, preparing to cap Eamonn Duggan at the foundry.
Why it's perfect: There's a generous smattering of irony here: the church organ, the sweet, familial message.
6. 'I Want Some More' – Dan Auerbach
When it's used: Season 2, Episode 2 – As the family's pub, The Garrison, is reopened.
Why it's perfect: The Black Keys man channels as much of 'Red Right Hand' as possible – sharp organ, a shuffling tempo, a blues bassline – only with beefed up production. It's the perfect melody to soundtrack this a moment of renewed family glory.
7. 'Long Snake Moan' – PJ Harvey
When it's used: Season 2, Episode 4 – While Arthur is pointing his gun at Tommy, when Tommy walks in on him high and having sex.
Why it's perfect: You wouldn't have pegged it as an anthem of narcotic, self-destructive, near-fratricidal lust, but it really is. Listen again: "Over / Under / Die of / Pleasure"
8. 'What He Wrote' – Laura Marling
When it's used: Season 2, Episode 5 – Straight after Polly has been forced into totally humiliating sex by Campbell, in return for the release of her son, Michael, from jail. This plays while she waits for him.
Why it's perfect: Laura Marling's song takes inspiration from wartime love letters, and its tough lyrics do justice to Polly's anger and endurance.
9. 'Come On Over' – Royal Blood
When it's used: Season 2, Episode 6 – During the season finale, Polly meets Campbell at the races and pays him back for his bastardry, shooting him dead. Then this comes on.
Why it's perfect: The most recent – and possibly the loudest – song on the soundtrack is ideal for Polly's revenge.
10. 'You And Whose Army?' – Radiohead
When it's used: Season 3, Episode 1 – As the body of the Russian oligarch is burning and Shelby is watching out the window.
Why it's perfect: Although this song has been explained by Thom Yorke as being about disillusionment with the government, it works equally well as a "don't fuck with us" statement for the Peaky Blinders, with lyrics like "Come on if you think you can take us on".