By now every Thom, Dick and Hamish have given their views on the 'The King Of Limbs', the 8th studio album by Oxford's finest/Oxford's biggest con merchants (delete where applicable). All that's left to examine and dissect bar the live dates – please God let there be live dates!- is the Collector's Newspaper Edition which fell onto most Radiohead fan's mats within the past few days.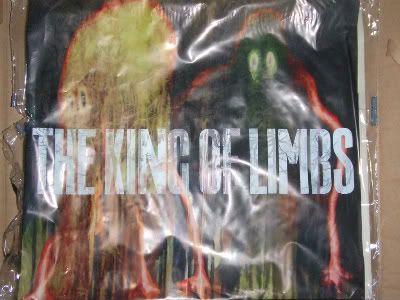 The contents were never a closely guarded secret: A CD version, two vinyls and a newspaper. But despite this, speculation still grew. With the acceptance now that there are no 'extra bonus tracks' (although to be fair Record Store Day songs 'Supercollider' and 'The Butcher' were emailed out to fans free of charge with very little fanfare), no free gig tickets included and no personally signed photos of Thom and the boys at bathtime, 'Head geeks can get on with the process of enjoying what has been included.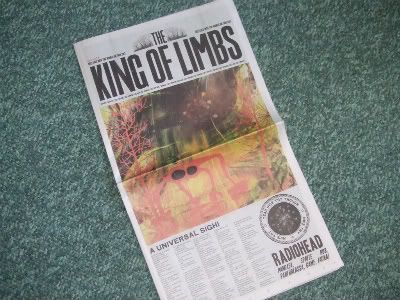 The newspaper is essentially a beefed up Sunday version of The Universal Sigh rag handed out by Thom in March and recycles much of the content. So you can expect trees, pictures of trees and thoughts about trees.
Stanley Donwood's piece entitled 'Sell Your House and Buy Gold' deserves a second reading, as do many of the lyrics reprinted, especially the surprisingly tender 'Give Up The Ghost'. The artwork by Stanley is as unique as ever and the text stating that the paper 'will not stand the test of time' seems strangely sad considering the care that's gone into it.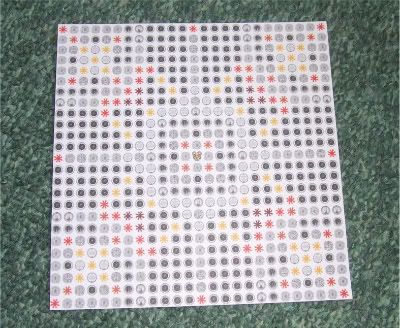 The clear plastic vinyls are another welcome addition for those that like their music holders pretty and untouched. What exactly the 625 sheets of acid (see picture above) are for, well, who knows. You can try licking them but you'll just get a serious case of cotton mouth.
In all fairness this final piece of the 'King Of Limbs' jigsaw will only add fuel to the backlash fire. Is it worth £30, or are the quintet taking advantage? Probably not, and probably are the simplest answers. But ultimately it'll make a lot of obsessive Radiohead fans happy, another object to snuggle proudly alongside the discboxes of 'In Rainbows', the 'Com Lag's and the B-sides of 'Go To Sleep'.
In a wonderfully weird way the 'best bit' remains some simple text on the oxo-biodegradable sheet packaging that states 'this material will outlive the owner'. It's a frank admission and a depressingly true statement that Professor Brian 'we're all going to die in a collapsing star' Cox would be proud of.
A perfect existential combination of reflection and depression. Now that's the Radiohead we know and love.