In the absurd and frightening social climate of 2017, we know few things to be true: school is not a place for smart people, love is just a chemical reaction that compels animals to breed and GRASSSSS…tastes bad. Yes, these facts have come straight out of various Rick and Morty episodes but the questionable morality of today's world leaders creates a need to seek refuge in the biting satire, offbeat humour and somehow illogically logical sequences of the series. Aside from dabbling in some stoic escapism, binge-watching all episodes possible, what better way to pad out that insurmountable existential void than with some squanchy merch?
'Awwww Bitch' T-Shirt – Buy Now
He's Scary Terry – you can run, but you can't hide (from general political dissonance, sickening bureaucracy, the looming resurgence of far-right politics and the rapidly growing gap between the rich and poor), bitch.
Rick and Morty Inspired 'Get Schwifty' T-Shirt – Buy Now
Represent Earth in the next Cromulon International Galactic Music Gompetition with this glorious t-shirt, emblazoned with past winners' hit single 'Get Schwifty'. Ohhh yeah, it's time to get schwifty in here. Your entire existence depends on it – literally.
Squanch Inspired Sweatshirt – Buy Now
It's more contextual than literal. Say ensquanché to the squanchiest of squanches.
http://imgur.com/wKrItxK
Portal T-Shirt – Buy Now
This multi-functioning portal t-shirt serves as both a comfortable, casual top and a daily reminder of the endless interdimensional possibilities existing all at once. Not frightening at all.
Rick and Morty Character List Inspired T-Shirt – Buy Now
An absolute necessity in the event that alien parasites decide to embed themselves into your memories and take over your planet. Remember, there should only be six people in the house: Rick, Morty, Jerry, Summer, Beth, Mr. Poopybutthole… and Uncle Steve… and Cousin Nicky… and Amish Cyborg… and Tinkles, right?
Rick and Morty 'Wubba Lubba Dub Dub' Inspired Sweatshirt – Buy Now
Derived from native Birdperson language, 'Wubba Lubba Dub Dub' is, arguably, the ultimate articulation of ambiguity, anguish and torment. The perfect accessory for all of your 2017 needs.
Rick And Morty Inspired I Want That Mulan McNugget Sauce T-Shirt – Buy Now
The only thing that defines and motivates Rick: an endless need for Mcdonald's 1998 promotional Mulan Szechuan McNugget sauce. Literally nothing else matters…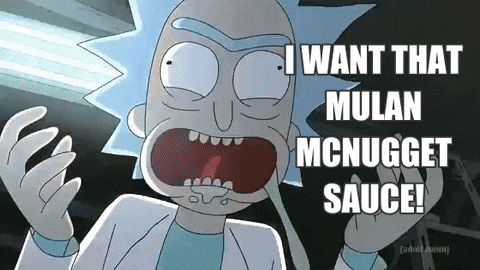 Words: Irene Mackie