Today is the 20th anniversary of 'Wannabe'. That 90s pop earworm that you start singing whenever anyone utters the words "I'll tell you what I want". To this day we are still grappling with the meaning of "zig-a-zig-ah".
This momentous occasion hasn't gone unnoticed by The Spice Girls themselves. Amid big rumours of a reunion gig next year and gender equality video remakes of the iconic 'Girl Power' track. This morning we were treated to an acknowledgement video from the band, saying that they've "been thinking" that "we want to have a party, and when we do, you're all invited!"
So far, so good then. It sounds like we can expect a Spicey reunion in the not-too-distant future.
But it seems like only a few of the Spicies are feeling the hype. The slimmed down ensemble and video presentation featured only three of the original five members; Geri Halliwell, Emma Bunton and Mel B, now referring to themselves as GEM (it's the first letter of each of their names, obviously.)
And it gets more awkward from there. The whole thing is filmed on mobile phone cameras like some kind of well-intentioned but uncomfortable Snapchat story. What's weirder is that they're all filmed separately in what looks like different locations, kind of like they might not actually be in touch. That, or they're trying something stylistic, which seems unlikely given the font (is that Ariel Bold?) and the knocked-up-in-five-minutes vibe the 40-second clip has about it.
We're excited, we really are, but let's take a moment of pause over each of their segments.
Mel B:
Is how you get people in the mood for a party? Has the Spice Girls' fortune run so thin they no longer have a budget for balloons? At least Mel B's in focus.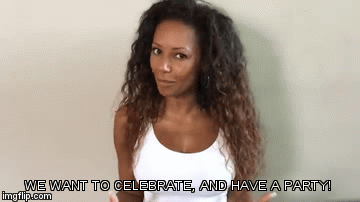 Geri:
Someone get Geri a new phone – something with a solid selfie mode. Girl Power is not about shonky video footage. Strong eyebrow makeup, though.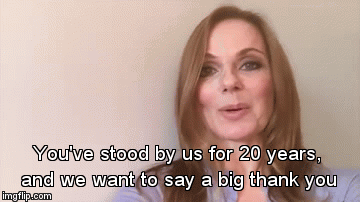 Emma:
I really admire Emma's enthusiasm. I really do. (She was always my favourite). But can we also point out the fact that she didn't bother putting down what I can only assume is another phone to film this. You can see her waving it around in this GIF.

Criticism aside, this is some fantastic news. Read our reasons why their rumoured Hyde Park gig next year will be the highlight of 2017.