A lost art form, the dating mixtape (and all mixtapes) largely died with the birth of CDs, MP3s, and all other media, because, let's be real – expressing your love for someone by painstakingly selecting, recording and creating funky artwork for a bespoke piece of musical playlisting is an awful lot more work than a simple 2am "u up?" SMS.
But for those of you still lamenting the loss of this beautiful expression of love, there are some post-millennial teens using the internet to adapt the mixtape for the 21st century and restore your faith in humanity. Yes, from the generation that brought us Milifandom, the Internet presents: Spotify flirting.
I told my crush I liked them through a Spotify playlist pic.twitter.com/f51lfkIMQv

— hannah (@iwannabawitch) April 18, 2017
Spotify flirting works like this: use the search function to find song titles and form sentences to help you express your emotions, then send it over to your crush. eg. 'i' 'Kinda Like' 'You' 'and' 'I Wanted to Tell You' – a sentence you might dream of uttering to the object of your affection every night before sleep, but could never, you know, actually cope with in real life. So thank you, Internet.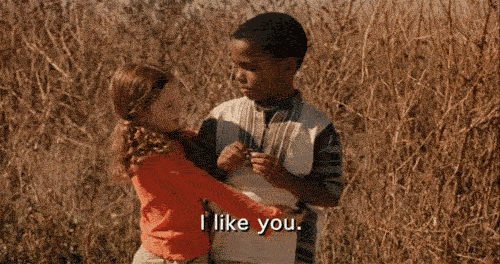 Then there was the famous case of Wyatt Hall and Kirsten Titus. After a couple of dates she decided they'd be better off as friends, so dumped him via what? A dope AF Spotify playlist.
So my sister has gone on a couple of dates with a guy named Wyatt but she likes someone else so she made him a Spotify playlist and… pic.twitter.com/kJmgrUBwqb

— E ☆ (@erikanalani) April 4, 2017
He fired back with a playlist of his own.
I made her one back btw pic.twitter.com/2ekiEAQqz8

— Wyatt Hall (@wyman778) April 5, 2017
And has been getting quite a lot of attention from other single internet users as a response – using Spotify flirting, obviously.
Made you one ??????? pic.twitter.com/n971gBWTbk

— ? (@xzsdpc) April 10, 2017
It works for people in steady relationships too! There's never a bad time to tell someone you love them.
https://twitter.com/katyphilly/status/851286559919816707
Socialists love it too!
asked out my crush with a spotify playlist <3 pic.twitter.com/SAEWRwFZFp

— nini martini (@cybersoybean) April 21, 2017
A Spotify playlist is a great way of communicating with family members without going up and down the stairs.
Told my dad what I wanted for breakfast this morning using a spotify playlist pic.twitter.com/UyYnWpFzhU

— average joe (@J03_LY0N) April 18, 2017
Love comes in so many forms, but Spotify flirting works for them all. <3
https://twitter.com/scaperunee/status/854900350045769728