Kyle Dixon and Michael Stein are the composers behind the latest smash hit Netflix show, Stranger Things. A chance online encounter with the pair's band, S U R V I V E, led the directors to get in touch with the Austin group and welcome Dixon, Stein and their army of synthesizers into the creative process. We find out more about how the Stranger Things soundtrack was built, and the synth's magical powers.
How did you get in touch with the Stranger Things creators, the Duffer brothers?
Kyle: They reached out to us July 3rd of last year. I don't know how they found the band, they don't know how they found the band. They think they found us on Spotify, which is bizarre. They used the last song from our first LP on a little mock trailer that they made to pitch the show to Netflix, and that was our introduction.
When they asked us if we were available we spent about a month and a half doing demos every night after work, just writing new stuff, finding old recordings that we thought might work and sending it over to them so they could pitch to producers.
https://www.youtube.com/watch?v=VPDZkbq0Zp8
We were up against several other composers who were trying to get the job as well, but we were in contact with the Duffers that whole time. They were asking us to make different tracks; write a theme that might be for this character, or might cover a certain mood.
We eventually got the green light to start working in October or November. They brought us in really early on in the process, much earlier than most TV shows were bringing someone in.
Michael: They wanted a very collaborative group of composers to work with. Someone they could bounce ideas with and who'd get the aesthetic. We started composing from ground zero, as they were just starting to write the scripts.
Kyle: They used our demos against the casting. The way that the demos that we made played off of the auditions helped them to decide to go with us as the composers, as well as help them to decide who to actually cast for these characters.
Why did only two of you from S U R V I V E get involved?
Kyle: It was just logistics really. The budget wasn't big enough to support everyone working on the score.
Michael: They needed us full time, and we were able to make that jump.

Are you going to continue composing together under your new production company, Short Hour?
Michael: Definitely. Hopefully we can do some movies. We're waiting to hear about Stranger Things [2].

Kyle: What we really need to do is get these fucking songs from the new
S U R V I V E album licensed because that makes way more money than composing. I've told the Duffers this, many times.
Were you fans of vintage supernatural cinema before working on Stranger Things?
Kyle: For sure. I mean everyone likes ET.
Michael: It's all the stuff we grew up with too.
Kyle: I was born in 1983, which is the same year the series is set. I don't know if that means anything, but it is a fact.
Stranger Things is about children having magical powers. Do you think synthesizers have magical powers?
Kyle: Every synth has a magical power, if you wanna call it that. Every synthesizer can do something really well, no matter what it is, even it's the cheapest, shittiest thing. It will shine in some aspect.
Why are they a good instrument to soundtrack the supernatural?

Kyle: Well you've heard a synthesizer right? They sound awesome; it's like way cooler than a guitar.
Michael: You can make thousands and thousands of different sounds, and you can emulate sounds. You can basically create the sound you're thinking of, or you can just goof around with it, and come across something that inspires you, that you write with. So it feeds you and you feed it and just have this interaction with the instrument. It's like a nourishment. Not like food.
What are your favourite moments from the soundtrack?
Kyle: I like the scene where Joyce starts chopping down the wall, even though the music is buried by explosions and all these other sound effects.
Michael: It's probably the song most reminiscent of S U R V I V E's music in the entire score.
Kyle: I also really like the theme that plays when they first find Eleven in the woods. It comes back a couple of times. And the main theme. That's pretty cool too.
Michael: My favourite is the theme that plays when Nancy and Steve first kiss. It reminds me of Giorgio Moroder, that romantic weird vibe from the 80s.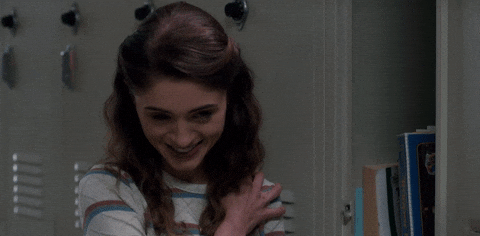 Do you know anything about season two?
Kyle: Nope. I've seen stuff online about a second season but I've not heard anything myself, so it could all be smoke. But hopefully!
S U R V I V E's new album, 'rr7349' is released on the 30th September 2016.