Yak's recent support slot for The Last Shadow Puppets ended with the Wolverhampton band calling the LSP's crew "cunts" and "assholes" for not giving them the chance to sound check during the tour. Bands touring together isn't always a harmonious pursuit, as evidenced by these 10 showdowns between touring bands.
1. The Enemy v Oasis
Drawn from Liam Gallagher's misunderstanding of The Enemy's Tom Clarke commenting, "I don't think Noel needs to do it anymore. He is doing it for the love of it", this short-lived feud between the support act and the headliners culminated in Liam Gallagher calling Clarke a "little fucker". Tom Clarke swiftly applied some damage control saying "Oasis have been and still are one of my favourite bands ever." Crisis averted.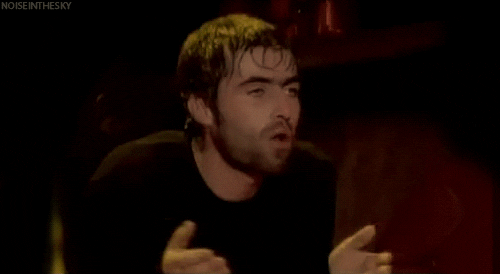 2. Kristeen Young v Morrissey
Morrissey's long-time opening act Kristeen Young has been embroiled in spats with the frontman more than once. Back in 2007, Young got booted of the tour after she upset Morrissey's camp by telling the audience "Morrissey gives good head, I mean, er, cunnilingus…" After this misstep she eventually opened for Morrissey on future tours, but in 2014 she once again lost her support slot after Morrissey blamed her for giving him a "horrendous cold" that forced him to cancel the remainder of his US tour. Young argued that she never had a cold and was instead suffering for allergies, saying: "I will not tolerate these lies… particularly about my health. This is really too much and bizarre."
http://giphy.com/gifs/Qe05WjXfNRnZm
3. Titus Andronicus v The Pogues
Unhappy with the reception they received from Shane McGowan and co, the New Jersey quartet aired their grievances about a North American tour with their "idols". Speaking in 2011, Titus Andronicus frontman Patrick Stickles said: "It made me furious. I didn't think that we were treated at all with the respect that we deserved, not even the respect as saying 'we're an important punk band', but respect that we're human beings. Only one member of the Pogues, tin-whistle player Peter "Spider" Stacy, even bothered to introduce himself. We talked for about 45 seconds and it felt pretty good."
http://giphy.com/gifs/L6u8iXEqS2aSQ
4. Guttermouth v every band at the 2004 Warped Tour
Guttermouth's frontman Mark Adkins took aim at the other bands on the 2004 Warped Tour for the political anti-Bush message they were pushing, largely influenced by NOFX member Fat Mike's PunkVoter campaign. Adkins said: "The young dumb bands on Warped 2004 were readily sucking the balls of said cause and, yes, that was their choice. My gripe stems from some of the groups I spoke with about the words they spoke on stage. So what the fuck does that mean, right? More than a few band members looked me in the eye and told me they started their set with the words, "Fuck Bush", but had not a clue why? This was pandering at its finest." Adkins also took exception to My Chemical Romance's aesthetics on that tour, and called them "wankers."
http://giphy.com/gifs/knlf3N8lvasgM
5. Slaves v Sleaford Mods
Slaves performed just ahead of Sleaford Mods at Glastonbury in 2015, prompting Sleaford Mods' frontman Jason Williamson to ask the crowd: "Did you enjoy the support band? Did you? Who was it? Take That?" Earlier that month Williamson voiced his distaste towards Slaves: ""I think they're a pile of shit," he said. "They're doing my pose in photos, ripping us off… I think they're fucking appalling."
http://giphy.com/gifs/yR2xz3xkeCEyQ
6. Jimi Hendrix v The Monkees
In a set up that was apparently orchestrated by his management team, Hendrix opened for a handful of The Monkees' US dates in 1967 before leaving the tour. When talking about The Monkees a few months prior to this arrangement, Hendrix told Melody Maker "Oh God, I hate them! Dishwater… You can't knock anybody for making it, but people like the Monkees?" The band's fans regularly chanted over Hendrix's set demanding The Monkees, and there were unconfirmed reports that Hendrix ended his last show on the tour by flipping his middle finger at the crowd.
http://giphy.com/gifs/SFTKk5eoEJQl2
7. Eagles of Death Metal v Axl Rose
Being called 'The Pigeons of Shit Metal' by one of music's leading frontmen probably wasn't the reception Jesse Hughes was expecting when his band toured with Guns N' Roses in the US. As it turned out, the band would only play one show on the tour after being unceremoniously sacked from the stage by Axl Rose. Jesse Hughes said at the time: "Axl Rose is fucking out of his mind. He wasn't even there when we played. He got there about 30 minutes after we got done playing. He waltzed on to the stage and went nuts." Despite a later attempt by Axl's team to get the Eagles of Death Metal back on the tour, Hughes wouldn't budge: "I just said, 'You can tell that motherfucker to go and fuck himself because I will never go through that again'."
http://giphy.com/gifs/aRIj8ejKUcr60
8. The Coral v The Metros
Peckham band The Metros perhaps unwisely decided to spray The Coral's amps with beer and managed to irritate the friends of the Liverpool five-piece by throwing beer at them, too. The result? They were kicked off the tour.
http://giphy.com/gifs/38XL5cH0F0U3m
9. Azealia Banks v The Stone Roses
Azealia Banks took issue with The Stone Roses at Sydney's Future Music Festival in 2013 after their soundcheck apparently disrupted her set. She branded the Manchester band "a bunch of old white men" and said that she wished them "nothing but excrement and death." She claimed that the night before she the show she nearly got into a fight with Ian Brown, but that the band later apologised.
http://giphy.com/gifs/HyFDAoGh0YscE