As people who played the original Pokémon games on a GameBoy will know, there hasn't been a truly great set of new Pokémon since the original trio of games – Red, Blue and Yellow. Every time they release a new game there are some truly barrel-scraping additions, including one recent one that looks like a rubbish bag and is actually called Trubbish. Still, that hasn't stopped Gamefreak and Nintendo from pushing out new sets of games every year or two. The latest to be announced are Pokémon Sun and Moon, due for release on the franchise's 20th anniversary, November 16, 2016. And one of the first three new Pokémon to be teased is a weasel that totally looks like Donald Trump.
This is Yungoos:

Want to catch a Yungoos in #PokemonSunMoon? When it's not searching for food, it's probably sleeping. pic.twitter.com/V5xJfSmlJR

— Galar region Pokémon (@Pokemon) June 14, 2016
As we can see from this info card, Yungoos is good at loitering and has a small size. Despite this, on the official website it says that Yungoos has a voracious appetite: "this Pokémon has a terrible temper when it's hungry — and it demands a whopping amount of food." Fans have used this description – as well as the yellow stripe on the beast's head – to compare it to Donald Trump, and have even mocked up Pokémon cards for the Republican Presidential candidate.

https://twitter.com/TheGameFreakGuy/status/742758116828254208
Yungoos looked familiar… pic.twitter.com/nU8U57FlZZ

— PokéTrends (@PokeTrends) June 14, 2016
So basically… That new Pokemon looks and behave like Donald Trump…. Mmmhhh interesting @NintendoUK ?? pic.twitter.com/JPAizKsT77

— DORYAN (@withDORYAN) June 15, 2016
Others think it looks like Boris, which is probably fair too.

Everyone is comparing Yungoos to Trump, but I think it's more Boris pic.twitter.com/2cl09IMxS0

— Fae ? (@Chariflame) June 14, 2016
Here's a little look at Yungoos in action: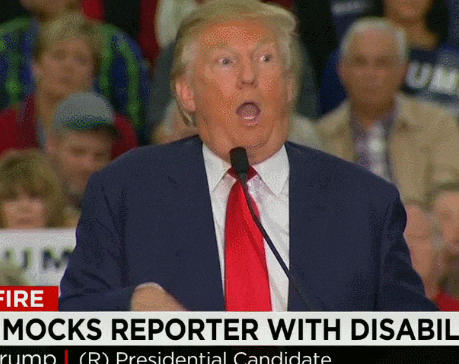 Sorry, wrong clip.