Last night, The Emmys celebrated all-things small screen with the annual awards show at the Microsoft Theater. Game of Thrones made history for the most Emmy awards of all time, and Sarah Paulson finally got her first Emmy award for Lead Actress In A Limited Series with her outstanding performance as Marcia Clark in The People Vs. OJ Simpson.
But let's get real. The whole awards show was basically irrelevant because the kids from Stranger Things showed up and were a major distraction to everyone and everything.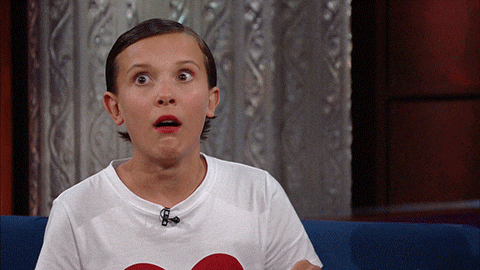 The Stranger Things Emmy takeover started early, when they brought basically the best red carpet game Hollywood's ever seen.
Strange, it's like they've done this before. The cast of Stranger Things OWNS the E! Glambot. #Emmys pic.twitter.com/T8iS8leUFT

— E! Style (@EOnlineStyle) September 18, 2016
And wore sick threads like it was no big deal.
.@stranger_things' @gatenm123, @calebrmclaughl1 and @milliebbrown are a stylish trio: https://t.co/XlRvR30heg #Emmys pic.twitter.com/hmNDLPEvW9

— Vogue Magazine (@voguemagazine) September 18, 2016
That's Gaten Matarazzo in a gingham waistcoat, Caleb McLaughlin in a silver rose embellished dinner jacket, and Millie Bobby Brown in Red Valentino, slaying. (Matarazzo: "I just went to this place and got this tux.")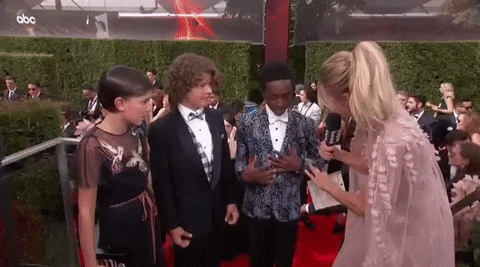 Then they sang Uptown Funk for the pre-show entertainment while guests were taking their seats.
https://twitter.com/mike_hogan/status/777657476363657216
Inside the #Emmys, the kids from #StrangerThings are performing #UptownFunk. pic.twitter.com/3WAze1gJHv

— Derrik J. Lang (@derrikjlang) September 18, 2016
#SNAPCHAT via la story des #Emmys; Gaten, Caleb et Millie chantant Uptown Funk! ♫ pic.twitter.com/DOuyEPzjia

— Stranger Things FR (@strangerthFR) September 19, 2016
Millie's brother was pretty proud.
https://twitter.com/CABLFC8/status/777673991540670464
Then they had some fun with the Stranger Things Snapchat filters..
https://twitter.com/milliebbrown/status/777647432033107968
And had several mutual fangirling moments with their celebrity fanbase.
This girl.. @milliebbrown what a sweet, smart and beautiful young lady you are.. ❤️ @Stranger_Things #Emmys2016 pic.twitter.com/qGCovThCw4

— Lea Michele (@LeaMichele) September 17, 2016
https://twitter.com/milliebbrown/status/777763507118886912
Then Jimmy Kimmel came onstage and told everyone his mum had made sandwiches, and the Stranger Things kids were going to distribute them. IN COSTUME!
They rode bicycles!
http://giphy.com/gifs/SFusnZkKyTlv2
http://giphy.com/gifs/39Tfetj6IiLzq
This row was definitely upset to be served by Jimmy instead of Eleven.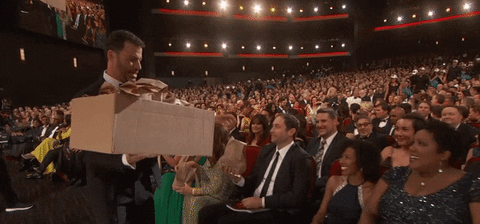 Here's a gif of Eleven giving Ross Geller a sandwich.
http://giphy.com/gifs/wevh30JP5nM3e
The bags contained cookies, juice and a note from Jimmy's mum.
Here's what was in the sandwich bags at the #emmys pic.twitter.com/sxRwOrnDNn

— Amy Kaufman (@AmyKinLA) September 19, 2016
In conclusion, the Stranger Things cast are #SquadGoals.
Bring on Season Two!
READ: Stranger Things Season 2: Release Dates, Cast, Trailers and Everything You Need To Know