If you've not seen series six, episode five of Game of Thrones, don't even think about reading this. We guarantee you'll regret it.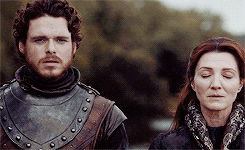 So. It's happened. We know why Hodor's called Hodor, and we know the horrible significance of his name. Bran's intervention (or the Three Eyed Raven's, rather) caused Bran to attempt to warg into Hodor (formerly Wylis) while he was visiting a scene from the past. This caused him to lose the ability to say anything other than the words that would eventually lead to his death: 'Hold the door' became 'Hodor'. If you think about it, George R. R. Martin has been planning this reveal for the 20 years since writing Game of Thrones, the first novel of the series.
He obviously kept schtum the whole time on the subject – when an interviewer recently asked the author of the series why Hodor was called Hodor, he looked a bit uncomfortable before saying, "I don't know, you'll have to keep reading."


Then there was this blog post written by writer Michael A. Ventrella about meeting GRRM several times in a lift at a convention, in 2013. The second time Ventrella met Martin in the lift, Martin told him he'd always wanted to be an elevator operator. The final time they met, Ventrella referred to the comment, saying "I was thinking about your comment about wanting to be an elevator operator. It's clear to me now that 'Hodor' is short for 'Hold the door.'" Martin replied, "You don't know how close to the truth you are!"
Ventrella's tongue-in-cheek suggestion was that Hodor's name has "something to do with elevators", but in reality it has to do with his tragic death.
The first person to correctly guess the name's origin, though – an astounding eight years ago – was forum-user Myrddin, on the forums for 'A Song Of Ice And Fire'. Myrddin appears to be fantasy author Stuart A. Etter, and he's been a member of the forum since 2005. Way back in February 2008, before the series had even started, this guy guessed that Hodor's name was short for 'Hold the door', although he too didn't realise the real gravity of the name. In his post, which you can see here and below, he wrote, "The poor guy is just asking someone to hold the door for him, since he's always carrying someone else around. After a while, 'Hold the door' became 'Hold the doorHold the doorHoldoorHodoor. Dammit! Hold the door!' His mind finally snapped, and now all he can say is Hodor."

This was posted on ASOIAF forums in 2008 https://t.co/fLVzFwB9FL pic.twitter.com/Vuj4ok5SDn

— Larry Bartleet (@larrybartleet) May 23, 2016
What a guess.