Ariana Grande's performance at the VMA Awards on August 28 was notable for two reasons. She started the performance in a weird spin class scenario, with most of her dancers on bicycles – and, related to that, her 'Side To Side' collaborator Nicki Minaj then came on and rapped the entirety of her titillating guest verse, which features the phrase 'dick bicycle'.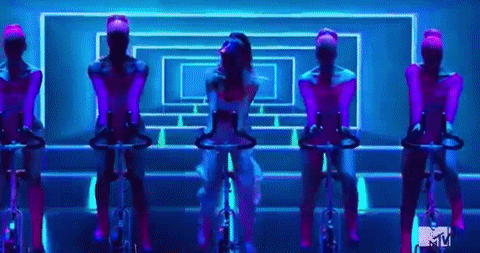 Now, we all know what 'dick bicycle' means. It's obvious. Grande's post-VMA explainer to
MTV
was that it's about "riding leading to soreness," whereas Jack Antonoff – member of FUN, mastermind behind Bleachers and also Lena Dunham's boyfriend – has explained it as "getting railed so hard you can't walk."
Safe in the knowledge that the meaning of 'dick bicycle' is now definitely cleared up, it's pretty funny watching Grande squirm when she was pressed by Ellen DeGeneres to put it in other words on her chat show yesterday. "You know…" she tells DeGeneres, who shoots back, "I really don't. I think I'm down with it, I know the lyrics, but what does that mean? Is that like a banana seat?"
Grande doesn't know what to do: this is TV. You can't just not answer. But is it a question you can duck out of tactfully? "Kind of," she says. "I don't know actually. I was on the bike… I sang… that happened, and you know…" Yeah, Grande, we know.