Forget the fact that the two videos for Rihanna's 'Work' have an age gate for their explicit content.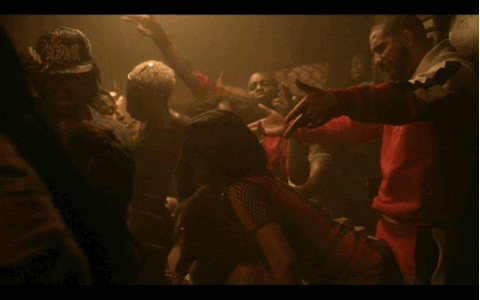 Forget Drake's impeccable beard and the resurrection of his Hotline Bling dancing.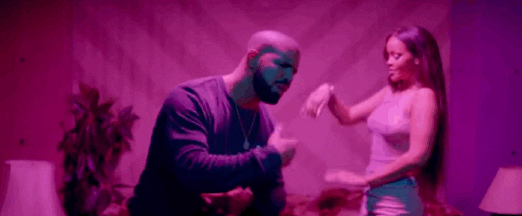 Forget even the fact that Rihanna and Drake have literally never looked closer than this, not in
six years of collaborating
.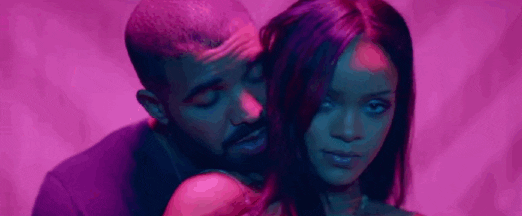 There's a far more perplexing issue at stake here than those things: back in January, the Rihanna bit of Twitter was crawling with fan-sourced reports from the set of a new Rihanna video, which looked nothing like the sepia-orange club or the purple-lit lounge of the two videos. No, the fans were pointing out a night time set for Work, which looked like it was in an LA mall parking lot full of ridiculous cars – but the money shot here was the Louis Vuitton-patterned horse (or horses) being paraded around.
The reason this idea might stand up in a court of law was A) the fact that Rihanna has worked with another luxury goods company before – Dior – before, in a branded advert, the backing track of which became 'Goodnight Gotham', from the deluxe version of her recently released eighth album 'Anti'.
More compelling, though, is reason B – the presence of the social media glue that is DJ Khaled, whose mini-video with Drake (below) appeared at the same time on Snapchat and seemed to fit in with the fan-shot images showing up on Twitter, which showed the glittering, high-end cars, horses imprinted with Louis Vuitton insignia – but no Rihanna. Take a look below – can we expect Rihanna to drop another video featuring Drake? Or perhaps a Drake video featuring Rihanna? Only time will tell…
https://www.youtube.com/watch?v=FSTA_cGDdiY
https://twitter.com/hellorenee/status/692401342350909440
Rihanna & Drake are allegedly filming at a mall in LA overnight, here are some shots taken by fans. ? #ANTI pic.twitter.com/QJrJQG52zh

— Kontrol Magazine (@Kontrolmag) January 10, 2016
More pics surfacing from the Rihanna X Drake music video shoot in LA for "Work", DJ Khaled is there ?? #ANTI pic.twitter.com/hFNzL7HtQS

— Kontrol Magazine (@Kontrolmag) January 10, 2016
Ok now we're really excited. Finally a close up of this festive Louis Vuitton horse. Rihanna X Drake Video #ANTI pic.twitter.com/XH7TXeTnSt

— Kontrol Magazine (@Kontrolmag) January 10, 2016
https://twitter.com/nanifenty/status/686119347501281280
Hope the Rihanna video drops today so finally I know why someone spray painted a Shetland pony or whatever for it pic.twitter.com/BKmty6A4cw

— Al Horner (@Al_Horner) January 27, 2016
https://twitter.com/jdotshots/status/686555611190943744
More than a month after these revelations, not many people are asking about the horse, but it's still a good question: where has it gone? When will we see it?
Why hasn't anyone asked about the scene @Drake filmed w the LV horse? Was it not for Work? ? @rihanna @iDirectorX pic.twitter.com/XNCVUFA95k

— Raf (@rafayagha) February 22, 2016
ok but where is the LV pattern horse @rihanna

— ati (@artpopoyster) February 23, 2016
http://link.brightcove.com/services/player/bcpid12850839001?bckey=AQ~~,AAAAABumiUU~,CmZu1qzq0Nydx8DqfQUoDJv2_kpwyWWq&bctid=1547157981001