If you're even remotely invested in the Kardashian/Jenner clan (nope, not me, never), then you've probably seen this advert for King Kylie's line of lip-glosses.
The advert was released in March, and features a Spring Breakers style scenario in which three gun-yielding young women cheat some thugs out of a bag of money in the middle of the desert. In case you needed a reminder, Kylie Jenner reaches peak badass in a Louis Vuitton headscarf and furry pimp coat.
What you may not have noticed about this boss piece of marketing is the cool pop track playing in the background, courtesy of a little known band by the name of Terror Jr.
The hype around this band is getting out of hand. Michael Kors has used their track 'Sugar' in a promo video.
London calling: a look inside our Regent Street store party. https://t.co/C6tn8USRqh #DrawnToLondon pic.twitter.com/hGBtJ9PRqH

— Michael Kors (@MichaelKors) June 24, 2016
listen to any terror jr song it makes so much sense it's kylie jenner how did i not see this oh my god this IS the year of realizing things

— elijah daniel (@elijahdaniel) September 1, 2016
https://twitter.com/romeannaa/status/769923128914960384
can't stop listening to @terrorjrmusic while I sassy walk to my car before work

— Hannah (@hbiscuithopps) August 22, 2016
Band member Campa can't get his head around the hype.
https://twitter.com/davidsingervine/status/772136080179011584
So who are Terror Jr?
According to a rep speaking to The Fader, Terror Jr "is a project from the guys who created Kiiara (Felix Snow and David aka Campa) and a girl named Lisa." The rep added, "They've expressed to me its their 'dream pop supergroup.'"
But here's where things get weird: there's plenty of evidence to suggest the singer, "Lisa", may in fact be Kylie Jenner herself.
Is Lisa really Kylie Jenner?
There's certainly many coincidences to suggest she might be.
Terror Jr was 'born' at the same time as the Kylie Jenner lip gloss ad
Terror Jr seemingly did not exist online until the release of the Lip Kit ad. The same day the advert dropped on March 31st, Terror Jr made their first tweet, declaring they were "born"
https://twitter.com/terrorjrmusic/status/715448585882624000
'3 Strikes', the track used in the video, was also posted to SoundCloud the same day:
And their first Instagram post? Yep, you guessed it, 31st March.
They don't care about anyone except Kylie
On both Instagram and Twitter, the trio only follow one account. Did someone say KYLIE JENNER?
Terror Jr is (probably) a woman
Terror Jr writes in their Twitter bio that the band name is an alias for "ms. three strikes", so we know there's a woman in charge of the group.
They have a Kylie inspired aesthetic
The artwork for their single 'Come First' is decidedly reminiscent of one notable celebrity's lip kit packaging:
https://twitter.com/terrorjrmusic/status/757717301869281284
A person called 'Kylie' is credited on their latest record
Or is this just their way of crediting the makeup mogul for catapulting them into fame?
Terror Jr are only encouraging the speculation
https://twitter.com/terrorjrmusic/status/760221671286448128
Terror Jr could be short "Jenner" instead of "Junior"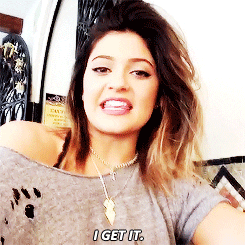 '3 Strikes' could be referring to three shades of Kylie Jenner lip gloss
The same ones she's promoting in that video: "Like", "Literally" and "So Cute".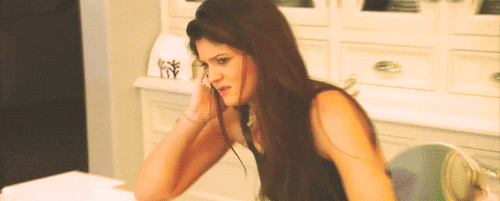 Jenner has been known to have a little in-car sing-a-long
On Snapchat, obviously.
Back in 2015, Kris Jenner said during an episode of Keeping Up With The Kardashians that Kylie had been taking singing lessons with her sisters and sounded "amazing."
And she's done vocals for a track by Burberry Perry
It's really bad though.
https://www.youtube.com/watch?v=ujS1WkbodCc
What do we know about Lisa?
Lisa is the supposed third member who fans believe could be Kylie Jenner in disguise.
Does she have any social media accounts?
Lisa does have a Twitter and Instagram account. However, she's only made one post on the latter; a black silhouette on a white background, encouraging us to speculate about her true identity.
Over on Twitter, she's still dishing out the cryptic shit.
Really though, who am I?

— Lisa (@eyyitslisa) April 16, 2016
Who am I?

— Lisa (@eyyitslisa) May 11, 2016
But seriously, what does she look like?
You can get a better idea of Lisa's appearance from the band artwork, where she faces the wall, revealing bubblegum pink hair.
Which is spookishly similar to the shade of pink wig Kylie was wearing back in February, around the time one might record a single for release in late March.
Then again, Lisa has quite short nails. Kylie Jenner would never have such short nails.
So what about the rest of the band?
The band's other two members are David Singer-Vine AKA Campa and Felix Snow.
David Singer-Vine worked as one half of The Cataracts, the production team behind 'Top Of The World' ft. DEV and 'Like a G6'. He left The Cataracts in 2012.
Felix Snow describes himself on Twitter as "Country Guitarist" and "CEO @effessempire". Effess Empire is Snow's independent record label. However, a trip to the label's website reveals nothing but SoundCloud links to tracks Snow has produced, and a logo featuring an aproned woman carrying an atomic bomb on a platter. So it's not especially revealing.
Both Snow and Campa have worked together to produce tracks for Kiiara, the Billboard Top 20 artist behind hyper catchy pop track 'Gold'.
https://twitter.com/davidsingervine/status/771422476744077312
What else have they released?
Terror Jr have released five singles since their big reveal in the Kylie Lip Kit video.
There's 'Come First':
'Say So'
'Trippin'
'Sugar'
And, of course, '3 Strikes'
When are they going to give up the mystery?
Don't hold your breath. Terror Jr have assured us that before we know their true identities, their music needs to be released and promoted. Or at least, that's what it sounds like.
https://twitter.com/terrorjrmusic/status/762045598451113984
And it doesn't look like they're keen to give away details for the foreseeable future.
https://twitter.com/terrorjrmusic/status/740310631685857280
https://twitter.com/terrorjrmusic/status/737863513960501249
When can we expect an EP?
The band keep hinting they're at the end of a project, but need more 'grapes' before they can complete the task.
https://twitter.com/terrorjrmusic/status/763434747255107584
And insist they are working on the EP, but it got delayed by new tracks
https://twitter.com/terrorjrmusic/status/760231173473710083
Maybe it will get released when Kylie has some more makeup to promote.