Hamilton, the Broadway smash musical is set to come to London later this year. The musical, which debuted on Broadway in August 2015 has won over fans, critics and celebrities alike including OutKast's Andre 3000, Kanye West, Tom Hanks, Amy Schumer and so many more. Hamilton tells the story of Alexander Hamilton, who grew up as an orphan on the West Indies and would later rise to become one of the United States' Founding Fathers as well as key figure in the formation and promotion of the US Constitution back in 1787. So, that probably sounds a bit boring, right? NOPE! Here is why Hamilton is being talked about by critics as a 'game-changing musical', how you can grab a tickets for the musical and everything else you need to know.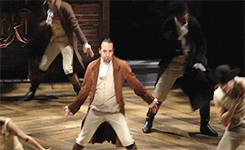 How to get tickets for Hamilton in London
When does Hamilton come to London?
Hamilton will come to the West End for previews between November 21 – December 6 2017. Regular showings will then run until 30 June 2018.
Where will Hamilton play?
Victoria Palace Theatre, London
https://www.google.co.uk/maps/place/Victoria+Palace+Theatre/@51.4967151,-0.1446625,17z/data=!3m1!4b1!4m5!3m4!1s0x48760520f5769eeb:0xfe7a7316a2c24c8e!8m2!3d51.4967151!4d-0.1424738
When do tickets for Hamilton go on sale?
Public sale will begin at 12pm on January 30.
How much are tickets?
For the preview shows (November 21 – December 6) tickets will cost £32.50, £47.50 or £79.50. Premium Tickets are £127.50
For the remainder of the run tickets will cost £37.50, £57.50 or £89.50. Premium Tickets are £137.50 and £200.
How do I get tickets for Hamilton?
For the regular sale, tickets will go on sale from the following websites only:
There will likely be huge demand for tickets, so you may be waiting for a while. Once you've queued for tickets you will then get to the buying page. There is a limit of four tickets per person. No paper tickets will be issued for the show as all the tickets will be linked to the debit card you paid with. You will then have to arrive at the venue with the payment confirmation, the card you paid with and ID.
Can I resell tickets to Hamilton?
To combat touts, there will be no paper tickets issued for the event – meaning reselling them is impossible. If you cannot go to the performance you booked you can cancel your booking from your point of purchase, and the tickets will be resold on the official site. This can be done up to 48 hours before the performance.
Who's going to be in it?
Several roles for the new production has been announced. Giles Terera, who starred in The Book of Mormon will play Aaron Burr, Rachel Ann Go (Miss Saigon) has been cast as Alexander Hamilton's wife, Eliza Schuyler and Rachel John (Bodyguard) will play her sister, Angelica.
The lead role of Alexander Hamilton has not been announced, but stay tuned for more news.
Why will it be so great?
The soundtrack takes inspiration from hip-hop
Didn't see that one coming, did you? Although set in 18th century, the musical shuns the the formulaic showtunes which are the tradition of musical theatre and instead relies heavily on a rap and hip-hop sound for several of the show's tunes. Questlove, drummer in hip-hop group The Roots and producer of the show's soundtrack said that Hamilton is the "first authentic hip-hop show". Take the lead track 'Alexander Hamilton' for example, which blends glitzy show tunes, gospel choirs and several actors taking turns to rap verses on the track. The cast also performed at the Grammy's earlier this year and picked up the award for 'Best Musical Theater Album'.
The cast is incredibly diverse
Although several of the real-life namesakes are white men – the show has flipped the script and instead included several black and hispanic actors to take up these roles. Hamilton himself (played by Javier Muñoz and Lin-Manuel Miranda) is played by two actors hispanic backgrounds and George Washington is now black (Christopher Jackson). Miranda who wrote the show is keen to have women play the roles of the other Founding Fathers and has said that "Our cast looks like America looks now, and that's certainly intentional," and Renee Elise Goldsberry, who was cast for the role of Angelica Schuyler "We have the opportunity to reclaim a history that some of us don't necessarily think is our own" in an interview with Time.
Teachers are using it as an educational tool
Trying to engage students about the US Constitution can probably prove particularly troublesome for high-school teachers, but several have started including the show as an educational tool in their curriculums. One said that students were engaging with the songs "the way they might sing the latest release from Drake or Adele" and another is using the soundtrack in the classroom to educate pupils on the Revolutionary Wars. Not only that, but the production team behind the show have pledged to reduce ticket prices for students and The Rockefeller Foundation recently made a $1.5 million donation to help reduce student ticket prices to only $10 for NYC high-school pupils.
https://www.youtube.com/watch?v=qdzOUMrYnkI
It's engaging non-theatre goers
Like The Book Of Mormon, Hamilton has picked up serious attention from those who usually wouldn't go near a theatre, due to various Late Show appearances from the cast and glowing reviews from critics. The lottery for front-row tickets has become an event too, with cast members putting on mini-performances for those trying to nab last minute tickets on the day. In July 2015, Miranda answered questions from the lottery entrants using only lines from fellow Broadway musical A Chorus Line and taking song requests from ticket hopefuls.
The show is bringing politicians together
Prominent politicians including Barack Obama and Dick Cheney have both heaped praise on the show and Obama said that the show "is the only thing that Dick Cheney and I agree on." He even invited the cast to perform at The White House he loved it so much.
So here's to you, Hamilton. Looking forward to seeing you.