Three, Two, One: ACTIVATE. Last night, one old friend emerged to replace another, as Robot Wars made its triumphant return to the BBC after a 13-year absence. At 8pm on BBC2 on a Sunday, it's taken the spot that Top Gear guarded for so many years.
For the reboot of the cult competition, which ran from 1998 to 2004 – ending up on Channel 5 for its final few months – we had a new set, new presenters and potentially a new favourite robot in the savage Carbide. We got to see more of the makers than before, witnessed the chaos of new four-way robot fights and, best of all, our favourite House Robots were back to play.
Meanwhile, Top Gear has sloped off to lick its wounds after being attacked by critics and viewers alike. Chris Evans has already jumped ship, and its future hangs in the balance after viewing figures dropped to record lows.
Robot Wars may be the replacement to Top Gear that Evans, LeBlanc and co could never muster. Here are the reasons why it's here to save your Sunday night.
Dara O'Briain revels in his role as presenter
Though it doesn't feel like he's been given quite enough room to improvise yet, O'Briain's presence as the figurehead of Robot Wars 2016 is an astute move. While some will miss the manic, trench-coated Craig Charles, O'Briain brings a dry wit that keeps the show light and entertaining. He would probably have been an ideal Top Gear host if he was actually, y'know, into cars – while Chris Evans and Matt LeBlanc seemed interesting choices on paper, they simply couldn't live up to the childish, blokey legacy that Clarkson and the fellas left in their wake.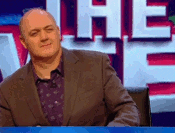 The House Robots are back, and more vicious than ever
Sparking joy in the hearts of former eight-year-olds everywhere, we saw the return of some formidable friends, the ferocious House Robots. The bulldozing might of Shunt, the petrol-fuelled powerhouse Sir Killalot and the spiked mutant beast Matilda are all back and bigger than ever. As much as we all love The Stig, these silent killers have come to reclaim their throne, though we must take a moment of silence in memory of Refbot, who did not make the transition to 2016. Our thoughts are with his family.
I really want to see all the house robots go head to head. Sir Killalot VS Matilda would be mad! #RobotWars

— Dean Boroczky (@deanboroczky) July 24, 2016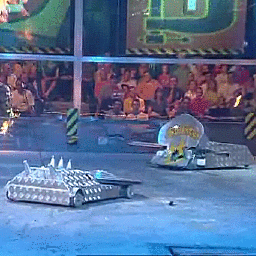 Jonathan Pearce is still the best robot fight commentator in the land
Take a top football commentator, put him in a dystopian gladiatorial arena and hear him roar. That was the original plan, and Jonathan Pearce is still bringing the drama to Robot Wars. At moments in this first episode, he broke into uncontrollable laughter, and it's hard not to smile at how excited he gets at bits of metal flinging themselves at each other.
https://twitter.com/Wriggy/status/757294646057893888
https://twitter.com/J_Wonderball/status/757305784183160832
Angela Scanlon brings a much needed female presence, and it feels like she's been here for years
Though O'Briain is the star pull, his co-presenter Scanlon is the one that truly shines, feeling right at home quizzing the creators in the back room. Top Gear could learn a thing or two from Robot Wars about giving their female experts equal air-time, as we're sure Sabine Schmitz would testify to.
3…2…1… ACTIVATE @UKRobotWars #RobotWars pic.twitter.com/TNugiMP44F

— Angela Scanlon (@angelascanlon) July 24, 2016
The robot's creators make the show weirdly relatable
While Top Gear always tended to focus on cars out of most people's price ranges, the friendship and banter between the hosts was something most could relate to. Without that real bond, all we are left with are the supercars, creating a disconnect between audience and show.
Robot Wars, on the other hand, fits surprisingly well into a tried and trusted BBC format – following members of the public compete for glory in their niche skill. We honestly didn't expect to see Robot Wars as the new Great British Bake Off, but seeing regular people lovingly showcase their working, moving, smashing robots could really be a national craze once more.