Another day, another batshit crazy Kanye West video. The promo for 'Fade' starts out reasonably enough – well, reasonably enough in the magical fantasyland in which Kanye inhabits. The sweaty scene is set in a gym unlike the gym you go to. For a start there's no-one stood annoyingly close to you, shooting you evils and trying to make you get off the crosstrainer two minutes after you got on it.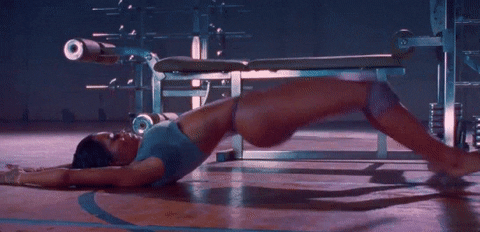 No, this is a sexy, Manhattan loft-style gym for sexy people. Sexy people who probably don't need to work out as much as they do, but work out they will. One person in fact; Teyana Taylor. If you've not heard of Teyana yet, all that will change today, as her face – and quite small pants wearing body – will no doubt be all over the internet from this day forward. A 25-year-old singer and actress from Harlem, she's been signed to Kanye's Good Music label since 2012, releasing her debut album 'VII' in 2014.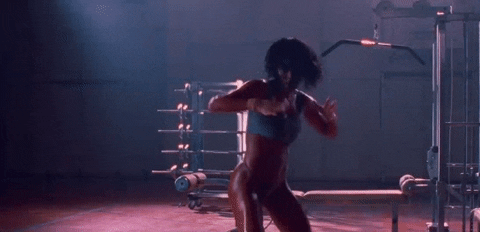 So for the most part of the video Teyana is basically doing a modern version of the classic 'Flashdance' routine, but with added raunchiness, and a lot more sweat.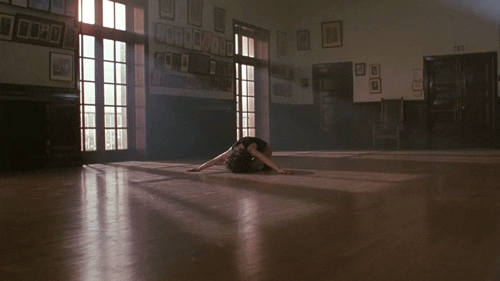 It's towards the end when things get strange. It's the end of the workout, and instead of nipping down to the juice bar to have a kale smoothie and check what she's missed on Instagram, she gets off with her IRL fiancé , Iman Shumpert in the shower – more proof that this is a high end kind of a gym, because usually men aren't allowed in the ladies locker room, right? Anyway, after that saucy shower based action, we see another shot of the outrageously attractive couple – except this time, Teyana has a cat face. And a tail. And there are loads of sheep. And their baby. It odd. It is naughty. It is rather compelling.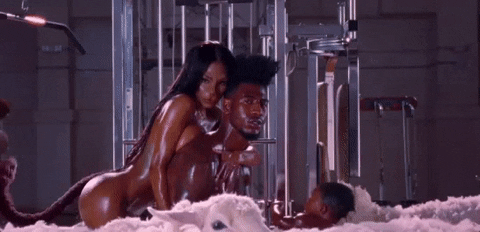 The choreographer for the video, Jae Blaze, has explained to Pitchfork what the heck this all means. "…You are now seeing her blossom into this fierce lioness, this fierce cat," explains Blaze. "The lioness always protects her baby. I think it really is about her coming into her fierceness. And that's where she is in her life right now. She is blossoming." So there we have it. Cat face, explained. Now we're just trying to find out how we can get membership to this gym.