The Libertines played a surprise gig last night at tiny London music venue pub The Boogaloo in North London. It was the first time the band have played on home soil, since wrapping up their once-improbable arena tour at The O2 in London at the tail-end of January. There, drummer Gary Powell had a message for the baying masses gathered before him: "Libertines: one and all."
Indeed, the unifying appeal of the band among music-lovers is something that Pete, Carl, John and Gary clearly draw strength from, with the four-piece's excellent return to action since the triumphantly-chaotic Hyde Park show in summer 2014 more than proving that their second wind has still got many more miles left to run. The Libertines' cult following is so large these days that it could very well shift that label – after all, how many cult bands find themselves headlining 20,000-capacity enoromdomes in their home country?
But there comes a point in every Libs' fan's life when they take a moment to consider this all-important question: just how much of a Libertines fan am I?
We've devised a checklist of some of the most important aspects of Libs fandom that'll clear up in your mind once and for all whether you're a certified crewmember of the good ship Albion, or actually just someone who's lost their faith in love and music. Better hope it's the former, eh?
You get a little bit too excited about the idea of going to Camden
The Libertines have long been associated with the indiest of the London boroughs: it's where Pete and Carl first lived together in their dingy squat of a flat, the location of the famous pub-cum-live venue the Dublin Castle where the band have put on many a riotous show, and also the residence of Camden Market, which essentially commodified the notion of Albion for curious tourists the world over. To Camden we will crawl!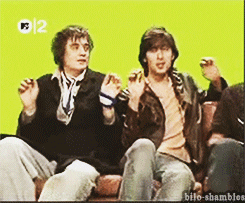 You've developed a deep affinity for red guard jackets
In your mind, 2002 never ended – 'Up The Bracket' is still the album of the life, and to ward off the winter winds, you button up your shiniest red guard jacket. Now where's my trilby hat?
You'd be willing to make a trek to an alleyway in east London
Not many people would see the appeal in trekking all the way out to a dingy-looking passageway between Bethnal Green and Hackney, but then not all people are diehard Libertines fans. Grove Passage, a narrow gulley off Hare Row, is considered as a Mecca-like location for many a Libs fan. Covered in graffiti honouring the band, it's a must-see.
The words 'Albion' and 'Arcadia' have a special place in your heart
The mythical Libertines paradise of Arcadia, which Pete'n'Carl have dreamily referenced in many a Libertines (and Babyshambles) song, is supposedly reachable by boarding the good ship Albion. With ties to a love of an idealised, poetic English landscape, both Albion and Arcadia have become important parts of any Libs fan's vocabulary.
Bonus points, too, if you happen to support West Bromwich Albion – although Pete would prefer it if you cheered on his beloved Queens Park Rangers.
You've told your significant other "you're my Waterloo"
Preferably while stood on Waterloo Bridge in the dark.
You've had the infamous 'Libertine' tattoo done
Say it with permanent ink. Say it with love.
You've serenaded the most prominent Katie in your life with "shoop-shoop, shoop de-lang de-lang" an inordinate number of times
Let's hope said Katie is a fan of 'What Katie Did', from the band's self-titled 2004 album.
You despair every time you see an Englishman in a baseball cap
'Time For Heroes' taught us a very valuable lesson.
There's a chuckle lying in wait whenever you listen to 'The Boy Looked At Johnny'
Because then you remember that Johnny Borrell used to be in a very early iteration of The Libertines, which is a very humorous fact to recall whenever you're feeling in need of cheering up.
You still get goosebumps watching footage of the 2010 reunion
The band's reunion gig at Reading Festival in 2010 – the first proper Libertines gig since the curtain was seemingly brought down forever in Paris back in 2004 – was quite an occasion. Whilst the performance itself was a little ramshackle and raw in parts (and let's not forget the astonishing fee that the band agreed to play for), to see the four Boys in the Band united once again on stage brings a tear to even the sturdiest of Libertines fans.
This also applies to the aforementioned Hyde Park outing in 2014 – bonus points yet again if you were one of the brave/stupid few who climbed the lighting rigs during the gig.
There's still a place for Dirty Pretty Things, Babyshambles and Yeti songs on your iPod
In the void created by the first Libertines split, fans of the band took solace in the various side projects that rose from the ashes – Carl and Gary with Dirty Pretty Things (remember 'Bang Bang You're Dead'?), John with Yeti and, of course, Pete with Babyshambles. Fuck forever, forever.
You consider Gary to be your favourite Libertine
Controversial perhaps, but how awesome is the Libertines' omnipotent, charismatic, and chirpy drummer? Just look at him here, lying across some sinks for the sheer hell of it.
Pete and Carl who?
You still can't quite believe that they're a fully-functioning arena band in 2016
And we mean that in the most positive way possible – after such an impressive 2015 (that surprise Glastonbury appearance; the Reading/Leeds headline slot; the excellent third album), it's been incredibly gratifying to hear that the band are planning to continue sailing the good ship Albion into 2016 and beyond. Long live the Boys in the Band.