*SPOILERS FOR STRANGER THINGS SEASON TWO BELOW*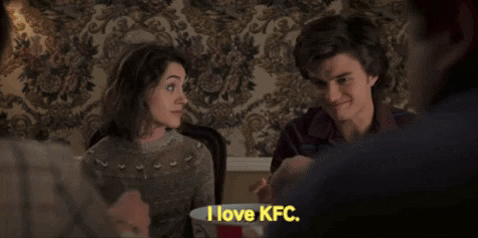 Stranger Things 2 has properly landed now. The nine new episodes hit Netflix on Friday and this weekend fans binged it the first chance they got. One of the big, early talking points to emerge was the unlikely new bromance blossoming between he-of-the-good-hair Steve Harrington and former-Dig Dug champion Dustin Henderson.
They first team-up when Dusty needs help dispatching his cute-pet-turned-evil-Demodog Dart. But then Steve ends up putting his life on the line for the other kids too, as they come face to face with the Upside Down's cruelest henchmen. It's safe to say that Steve's come a long way from the immature bully we met in Season 1. And fans have fallen in love with him as a result.
https://twitter.com/perrieshawns/status/924959555758551040
Stranger Things 2 but instead of their moms taking pictures of them in their ghostbusters costume, it's Steve

— gracie (@80seImax) October 30, 2017
can we talk about steve's character development in season 2 of stranger things pic.twitter.com/w9Fa35pKcN

— anabelle (@anabellestur) October 30, 2017
But they're praising Steve and Dustin's relationship too
https://twitter.com/sapphicsis/status/924056928422162432
https://twitter.com/onlyriquelme/status/924655683592687616
steve sharing his hair tips with dustin im screamingggg love my boys pic.twitter.com/Dxkh0HqTtR

— ً (@judecardn) October 27, 2017
Steve becoming a big brother to Dustin is my favorite thing in 2017. #StrangerThings pic.twitter.com/f8uILAciuW

— Alana ? (@alanathetrap) October 29, 2017
Here's four reasons why a Steve-Dustin spin-off series would be totally awesome.
They have the best hair on TV
https://www.youtube.com/watch?v=mFOUbara9kQ
The secret? "Faberge Organics. Use the shampoo and the conditioner, and when the hair is damp — it's not wet, OK? When it's damp — do four puffs of the Farrah Fawcett spray."
Steve is like Dustin's big brother
Dusty has no dad or siblings in Stranger Things and so Steve's role as his de facto older brother is vitally important. He stops him from doing stupid things – like keeping a murderous monster from another dimension in his garden shed. It's worth noting that Dustin keeps Steve's monumental ego in check too.
They've both felt the cruel touch of a failed romance
In season two Nancy ditches Steve for strong, silent type Jonathan Byers, while Max chooses to dance (and snog) with Lucas at the season-ending Snow Ball, instead of Dustin. They both need more screen time together to process their respective heartache.
Think of the zingers
steve: how do you know it's not just a lizard?
dustin: well cause his face opened up and he ate my cat
steve: pic.twitter.com/eSwY81KMGZ

— ??????? ??? ??????? ?? (@mrveIspidey) October 28, 2017