In Cinemas
I've gushed more than enough about '(500) Days Of Summer' this week, so here's an alternative for all you heartless bastards who don't belive in love *weeps gently into his keyboard*. 'District 9' is a sci-fi thinker produced by Peter Jackson and directed by up-and-comer Neill Blomkamp.
https://www.youtube.com/watch?v=d6PDlMggROA
Based on a short by Blomkamp about the tensions that arise when big, prawn-like aliens move in next door, 'District 9' is getting rave-reviews as the intelligent blockbuster of the summer. Intelligent? Blockbuster? Do these words belong together? With themes as complex as segregation and xenophobia it seems that, for the first time in a long time, they just might.
But go watch '(500) Days Of Summer' first.
In The News
The big news making Tinseltown all tinsely is that Disney have bought out Marvel for $4 Billion. To quote Katie Price's new boyfriend, "That's a lot of Titty". But for that $4 Billion the house of mouse now has Men in forms of Spiders, 'X's and Irons. Plus 'The Fantastic Four'.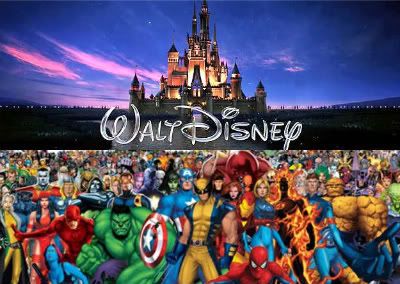 What any of this means, I have no idea. I can't see Walt and the boys Disney-fying tried and trusted fan-boy faves like 'Spider-man' and they can't make the 'F4' any more kid-friendly so perhaps nothing will change except the opening credits and some studio heads will get a bigger pay-cheque. Or fired horribly if it all goes wrong.
New Trailer
Did you ever see a film called 'Boondock Saints'? Not many people did but for those of us that have it's a guilty pleasure of a film up there with 'Crank' and 'Soapy Tit Wanks Vol.3'. As stupid and gloriously violent as films come, the trailer for the sequel has just hit.
https://www.youtube.com/watch?v=if2-PYxgL50
If anyone has seen 'Overnight' the documentary charting the rise and fall of arrogant-fartbag-director Troy Duffy you'll know that the fact that this sequel got made at all is a miracle up there with Jesus's mum getting pregnant without the use of man-spunk, but here it is. 'Boondock Saints 2: All Saints Day'.
What are your thoughts on the above? Anything I've missed rocking the movie world this week? Also while you're here and this is an all new feature, What would you like to see more of, trailers, news, reviews? All words will be lovingly read.