Despite my better judgement, and my wussy tendencies, I'm becoming something of a horror film fan. There was a time when just a brief glance at images like the one below would have me coating the insides of my diapers with liquid crap. Now, however, I'm lapping up with glee every torn artery, every prolonged scream and every moment where someone pukes their embalming fluid into someone else's mouth like a mainstream homage to 'Two Girls One Cup'.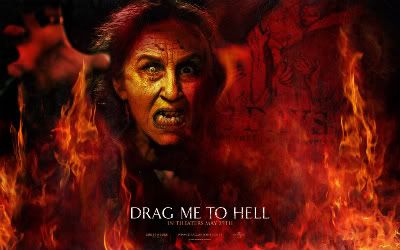 I'm not entirely sure, but I'm guessing the latter grisly act isn't something that's common to all horror films – so I should probably retract my first statement and say I'm becoming something of an 'intelligent horror' film fan. So, since when has hurling into someone else's mouth become the pinnacle of intelligence? Fair question. But in 'Drag Me To Hell' Raimi manages to make it seem so. Perhaps intelligent is too strong a word. Original would certainly fit. When most 'scary' movies are join-the-dots, cliche-ridden, shit-fests it's nice to see someone pulling off something a little different.
http://www.youtube.com/watch?v=KRi1A7-4–M
Alsion Lohman plays Christine Brown, a banker, but not the kind of banker everybody feels is responsible for everything that's wrong in their lives, but a nice one that has a kitten and a boyfriend and used to be fat and live on a farm. She may be as nice as apple pie but she does want a promotion and so denies an old lady a loan, hoping it might help her career. A bit of a mistake considering said old lady is a mental gypsy, big on cursing people. Christine gets execrated big time and its not long before she'll do anything to lift the curse.
Cue set pieces of old lady attacking Christine, Christine going a bit mental, Christine doing things to her cat that the RSPCA tend to frown upon and Christine dabbling in the occult. Each big money moment has the perfect rationing of 'Ha!' to 'Ah!' meaning that 'Drag Me To Hell' could quite possibly be the most audience reaction-worthy film of the year. When I say reaction I mean physically. It's either full on belly laughs or yelling out 'ewwwww' and covering your face as quick as you can muster.
Any director can show some 'horrible death and shit' but most of the time it's either ignorably dreadful or laughingly terrible, the fact is Sam Raimi knows exactly how to garner this audience interplay. And that's why it's easy to class this as 'intelligent horror'.
One thing that did bother me though – and it's a bit of a SPOILER ALERT – but why didn't she just mail the cursed button to The Jonas Bros? Therefore no innocent life would be lost. Seems logical to me.