Watching movies may not seem like the most hedonistic way to while away a weekend in the biggest party of the year, but each year the cinema field at Glastonbury is full of people doing just that.
As much of an Pilton institution as The Stone Circle or Woody Bop Muddy (click here to see the RIICCCEE!!!), the cinema field is just another example of why G-Bury is so much more than just a place to watch bands.
This year the field has relocated to a huge tent just below the Acoustic Stage but the line-up is as impressive as ever. Expect audiences to be chanting "Bueller, Bueller, Bueller!" as Ferris takes his day off on the Thursday night. After that, a double bill of 'Anvil!: The Story Of Anvil' and, to whet your appetite before their performance on the Pyramid Stage, 'This Is Spinal Tap'.
Blockbuster fare in the form of both new 'Batman's, 'Star Trek' and 'Watchmen' will be on hand to show the hippies that capitalism can be good. While music documentaries are represented with 'Soul Power', 'Woodstock' and 'Mamma Mia'. Well, maybe not 'Mamma Mia'. If by Sunday night/Monday Morning your brain and body haven't given up on you, give them a treat with the film of the year so far, 'Let The Right One In'.
As a projectionist lucky enough to work there, the cinema field has contributed to two of my 'professional' highlights. The first was screening the 'Thursday Night Film' (the cinema field's biggest attraction) of 'The Goonies' in 2005 to a field of several thousand people screaming "Hey, You Guys!". The second was chatting with Mr. Eavis himself during an exclusive screening of 'Wall-E' as he joked that he, "could do with one of those little robots to help clear up around here". Bless.
Oh and if my guess is correct, the 3-D surprise film on Sunday Morning will be a treat for big and little kids alike. Currently rivalling 'Wall-E' in the critics list of greatest animated film of the new century and not coming to these shores until October it should be worth waking early for.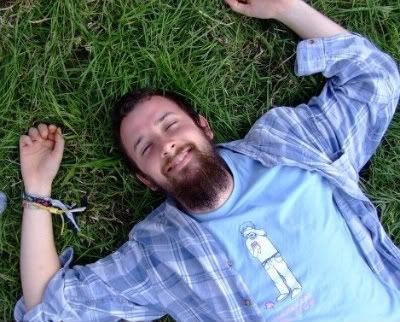 If it has half the emotional impact on me that the little robot did, you'll find a very tearful beardy man in the cinema tent on Sunday. Come say hello.
For all film times and a little more on the location and history of the cinema at Glastonbury click here