Why do you want to stay in a dark cinema when the sun is a shining? Well this week you have three reasons. First up, The 'Evil Dead' creator revisits his roots. Secondly, some wrestler gets his shooting on. And most importantly, Stringer Bell does Beyonce.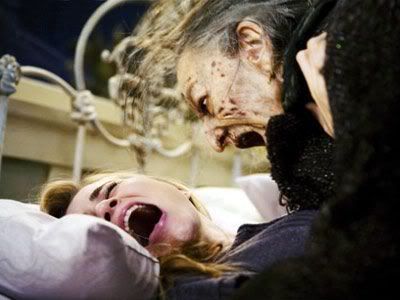 Drag Me To Hell
There'll be a review up on this very site on Monday but first I have to summon up the courage to watch what is touted as, 'The Scariest Horror of the Decade'. Hyperbole notwithstanding, it's lovely to see Sam Raimi back doing 'icky'. Just look at that old lady (above) trying to lez up the lovely Alison Lohman. Truly horrific. My friend, workmate and stand-up comic extraordinaire Andy Whiteoak says it's his favourite film of the year so far. Well, how's about that then?
https://www.youtube.com/watch?v=KRi1A7-4–M
12 Rounds
Detective Danny Fisher (John Cena) discovers his girlfriend has been kidnapped by an ex-con tied to Fisher's past, and he'll have to successfully complete 12 challenges in order to secure her safe release. So says the IMdb plot synopsis. I know nothing about this film other than it has a wrestler in it who isn't The Rock or Mickey Rourke. Could be a bit of mindless fun.
https://www.youtube.com/watch?v=Mp3Aqe8FrNE
Obsessed
Stringer, Stringer, it's Stringer Bell. I love him. Actually I love Idris Elba (from 'RocknRolla' to 'The Office'). He is the perfect man. If I was a lady with lady parts I'd stalk Idris Elba every single day. Quite apt then that he's playing a man who gets stalked by that one from off of that 'Heroes'. Bouncy Knowles plays his wife who is more than a little miffed that 'Heroes' girl is after her man. Lucky Bouncy, if only I could feel Idris's strong hands touching me, gliding through my hair, slowly moving down to my… *cough*, sorry.
https://www.youtube.com/watch?v=JBq8clz1nvQ
Jonas Bros 3-D
I actually watched this. (I had to. It was my job.) I thought about ending my pitiful life halfway through but couldn't go through with it for two reasons. One, I didn't want the Jonas Brothers to get any more publicity. Two, I didn't want some hack journalist writing it up as an asphyxi-wank death. Once the film was over I returned home, listened to 'The Bends' and got very, very drunk. I'm not putting up a trailer for fear that you all smash your computers. And rightly so.
What are your thoughts on the latest Raimi? Do you know how the hell John Cena got onto the big screen? Are you as passionate in your hatred for the Brothers Jonas or as passionate in your crazy man love of Idris as I am? Any comments send to the usual address, i.e, below.