To quote Jeremy Piven in 'Grosse Pointe Blank', "Ten years! Tennnn Years! Ten yeeeeears!" That's right: a full decade has passed since the slo-mo gunfights, War Bastard, the paintball, Mike dressed like a giant cock, Duane Benzie, wasting Baco The Foil and a smorgasbord of the funniest scenes, wittiest dialogue and greatest characters ever to grace any screen ever. Ever.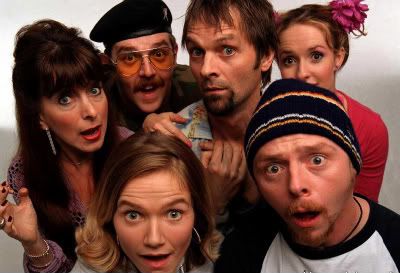 From the most hyperbolic opening I've ever written you may be able to tell that I'm a fan of 'Spaced'. As all good people are. And like all good people I re-watch it religiously, I can quote large sections verbatim (including Tyres' speech about disco fudge) and I even have a 'Spaced' T-shirt that I'm wearing in that picture above, (it's out of shot but I can always e-mail you one if you want proof).
In honour of this momentous occasion, here is a look at the 'Spaced"s crew foray into movie-land. Some good, some not so good, but all enough to make you wanna curl up onto a beanbag and re-visit the Greatest British Television Show Of All Time.
Simon Pegg (Tim Bisley/writer)
What links Rik Mayall, Sophie Myles, Vincent Cassell and Simon Pegg? If you answered 'Guest House Paradiso' you've earned yourself a Jaffa Cake. Even before 'Spaced' hit our teleboxes Pegg had a reasonable role in the quite appalling 'Bottom' movie.
After 'Shaun Of The Dead' though, Hollywood came a calling. He can now be seen hanging out with cine-chums Tarantino, Spielberg, Peter Jackson and er, David Schwimmer (hey I like him!). Lead roles in 'Run FatBoy Run' and 'How To Lose Friends…' may not have shot him to superstardom but he's forming a tidy career away from Edgar, Jess and Nick in two of the biggest earning films of the summer, 'Star Trek' and 'Ice Age 3'.
For fans of his earlier, funny stuff he'll be back with Nick on 'Paul', a film that features Sigourney Weaver. As a self-confessed geek, playing opposite Ripley must have Pegg desperately looking for the tissues, which I'm sure he knows are still in his pocket.
Jessica Hynes (Daisy Steiner/writer)
Nay Stevenson! How dare you go off and have a family and be happy and stuff. You should be out making more shows and films for fanboys who violently debate 'Series One Daisy' Versus 'Series Two Daisy'. Or hats off to you for balancing the two.
It may not be incredibly hard but she's by far the best thing about 'Bridget Jones: The Edge Of Reason', she did a fine job in Brit-improv movie 'Confetti' and her turn in 'Son Of Rambow' is quite possibly the best bit of grown-up acting the 'Spaced' lot has achieved. Next up is a role in the final 'Harry Potter' and more raising kids. How cool would it be to have Daisy as your mum? She'd probably buy you porn. Or maybe just make you get it from railway sidings like everybody else.
Edgar Wright (Director)
The man whose Sam Raimi style crash zooms gave the show the cinematic feel, thus bringing the wonderful words of Simon and Jess to life, is having an incredible career. 'Shaun' was enough of a calling card to get an invite from QT and RR to make a short as part of 'Grindhouse' and now he's getting offered every comic-book movie from in-the-works 'Scott Pilgrim' to greenlit 'Ant-Man'. And he done that guitarist from Ash. Ooh Ash, Sam Raimi, Evil Dead, coincidence?!
Nick Frost (Mike Watt)
Alongside his boyfriend in 'Tintin' and the aformentioned 'Paul', Nick has also cropped up in a host of British movies; 'Wild Child', 'Kinky Boots', 'The Boat That Rocked' and 'Penelope'. In fact if Working Title make a movie Nick Frost in contractually obliged to be in it.
But it's the polar opposite roles of Ed ('Shaun Of The Dead') and PC Danny Butterman ('Hot Fuzz') with his old cohorts that show what a helluva an actor he actually is. To think that he'd never even acted before 'Spaced'. Apparently though, Simon only hangs out with him because of what happened when they were kids. Cue maudlin piano and cloudy flashback.
Mark Heap (Brian Topp), Julia Deakin (Marsha Klein), Katy Carmichael (Twist Morgan)
As big a part as any of the others in the show, the inclusion of the most bizarre love-triangle, Brian, Marsha and Twist, is a small one due mainly to the fact that TV and Radio seem to be their forte. Mark did have small roles in 'Charlie and the Chocolate Factory' and 'Stardust' though. And Brian and Marsha both had parts in Woody Allen's 'Scoop'. But no-one saw that. Not even me. And I like Woody Allen. So much so that after viewing 'Annie Hall' I have to wash my sheets. And my penis.
Aida The Dog (Colin)
Typecast as "Dog that likes widescreen television", Aida has sadly never worked again. For all I know she may have gone, as all dogs do, to heaven. What a gayclub?!
For reaching the end of my lovefest here are 3 minutes and 27 seconds of sheer joy. Try not to shed tears that there will be no Third Series.
Come on all, join the celebration. What are your favourite 'Spaced' moments? Any 'Spaced'-related films I've missed out? Should I have just compiled a list of the best 'Spaced' movie in-jokes? Now that I think of it yes, yes I should have. Nevermind, maybe on the 20 year anniversary.