Today (July 5), D.C.'s Suicide Squad is released in cinemas worldwide (except China) for the world to gorge on the insanity of The Joker, Harley Quinn and more. The comic book adaptation has caught a bit of flak from critics, but there's no denying that the soundtrack so far is a sure-fire hit. There's an obvious attempt to replicate the success of Marvel's Guardians Of The Galaxy and the accompanying soundtrack – but it might be even better. By roping in some bonafide stars, we could be looking at the film soundtrack for a generation. Here's where you can listen to the the Squad's tunes.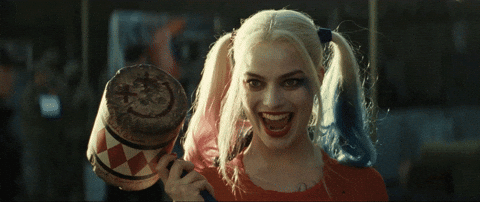 Who's on it?
Several big names like Grimes, Skrillex, Twenty One Pilots and The Black Keys' Dan Auerbach have their music featured – with several of the tracks written purposefully for the soundtrack. Here is the soundtrack in full.
'Purple Lamborghini' – Skrillex & Rick Ross (Original)
'Sucker For Pain' (with Logic, Ty Dolla $ign and X Ambassadors) – Lil Wayne, Wiz Khalifa and Imagine Dragons (Original)
'Heathens' – Twenty One Pilots (Original)
'Standing In The Rain' (featuring Mark Ronson) – Action Bronson & Dan Auerbach (Original)
'Gangsta' – Kehlani (Original)
'Know Better' – Kevin Gates
'You Don't Own Me' (featuring G-Eazy) – Grace
'Without Me' – Eminem
'Wreak Havoc' – Skylar Grey
'Medieval Warfare' – Grimes (Original)
'Bohemian Rhapsody' – Panic! At The Disco (Original)
'Slipping Into Darkness' – War
'Fortunate Son' – Creedence Clearwater Revival
'I Started A Joke' (featuring Becky Hanson) – Confidential MX
Which are the best tracks?
'Medieval Warfare' – Grimes
"It's essentially a darker take on the sounds of Boucher's latest record, mixing rock, electronica and pop in the curious way only she can, and an ominous track that's wildly appropriate for the film soundtracking" said NME's Rhian Daly in her recent review.
'Standing In The Rain' – Action Bronson, Mark Ronson & Dan Auerbach
Bronson effortlessly vibes about 'pillow flights with Dominican mothers' and er, porn site 'Milfhunter.com', but it's all carried by the swaggering and dark instrumental laid down by Auerbach and Ronson. Irreverent, perhaps, but insanely catchy.
'Gangsta' – Kehlani
Following her attempted suicide attempt earlier this year, R&B queen Kehlani is back on top with 'Gangsta', a sultry and devilish affair that seamlessly fuses into the film's dark styling.
Where can I listen?
The soundtrack is available on all streaming sites, like Spotify, Apple Music, Tidal and more, as well being available to buy from music retailers.
Can I get it on vinyl?
You can currently pre-order the record from HMV.com, however a release date for the product has not been released just yet. Stay tuned for further release details.