Yesterday I reached the classic rock star death age of 27. So paranoid at the prospect of joining Jim Morrison, Kurt Cobain, Janis Joplin, Brian Jones, Jimi Hendrix and, perhaps the person who contributed most to our cultural evolution, Jade Goody, I considered locking myself in an underground hole for the next 365 days so that I wouldn't become a member of this infamous club.
Then I remembered that I'm not famous or talented so the 'curse' probably won't affect me. Upon this realisation I decided to climb out of my lead-cased bunker, head to the cinema and watch some movies instead. Here they are.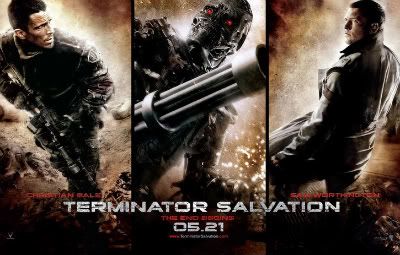 Terminator Salvation
It's a cold day in hell when I admit to being wrong about anything, but here it is, an apology to a man named McG. The man every geek loves to hate (mainly because he attempted to re-make 'Spaced') has actually pulled off a helluva job with the new sans-Arnie Terminator. A full review by someone not me can be found here but there really isn't much I'd differ with.
It's not quite the classic of the first two but it takes a massive giant shit on the excremental Terminator 3. It's strongest card is that fanboys such as myself will pick holes all the way through the film only to be proven horrible wrong as the film completly justifies itself by the final reel. That my biggest beef with the end product is that some of the characters' teeth are too white (do only cockroaches and dentists survive nuclear war?) shows what at accomplishment the film is.
Last Chance Harvey
How could they possibly release this film on the same day as Terminator Salvation? It's almost identical in plot. Haven't film buyers ever heard of 'alternative marketing'? Apparently not. Emma Thompson plays a cyborg from the future sent back to impregnate Dustin Hoffman during the shooting of 'Stranger Than Fiction'. Arnold Schwarzenegger cameos as God. Check out the trailer if you don't believe me.
Anything For Her
Finally a film without killer robots. A few months ago I questioned whether or not all foreign films were great. I came to the conclusion that of course they're not, but we (in the UK) only receive the best of the best, so it feels like Johnny Foreigner's output is exemplary. 'Anything For Her' is a nice illustration of this point. An interesting tale of an everyman trying to break his wife out of prison for a crime she may or may not have committed. Impeccably acted and tenser than a Prime Minister's butt on election night.