Forget being on the front cover of Time magazine, getting invited to The White House or being inducted into the Hall Of Fame, the real sign that you've made it into the biggest of big leagues is being immortalised in yellow.
So many great bands have sat next to Homer and co, but heres a rundown of the greatest musician cameos in 'The Simpsons'.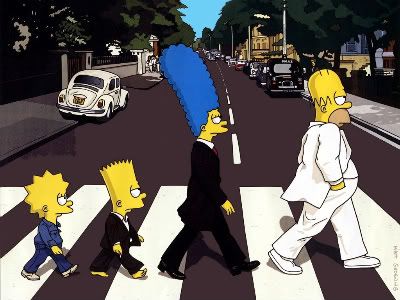 Red Hot Chili Peppers
Included for the near genius conversation between Krusty The Clown and Flea debating the content of the lyrics. "Can we change it from 'What I've got, You gotta get it, Put it in ya' to 'What I'd like, is I'd like to hug, and kiss ya'?" Flea's response: "Wow. That's much better." Perhaps Krusty's influence is why, in my humble opinion, RHCP never topped 'Blood Sugar Sex Magik'.
The Ramones
The punk legends crop up in 'Rosebud', the Citizen Kane of Simpsons episodes, i.e quite possibly the best (and also because it includes multiple references to Citizen Kane). Singing Happy Birthday to an unimpressed Mr. Burns results in the old codger ordering the deaths of The Rolling Stones. Mr. Burns is obviously unaware that The Rolling Stones can't be killed by conventional methods.
Spinal Tap
Watching the legendary trio at this year's Glastonbury, one thing struck me. I'm now in the same company as Bart and Milhouse, for I am witnessing The Tap. Complete with onstage mishaps, loveably awful English accents and some of the worst music ever recorded, Spinal Tap rock Springfield like it's a Big Bottomed Lady.
The Beatles
They may never have all appeared together (Mark Chapman saw to that), the other members of 'that band from the 60's that did alright' have all popped up as themselves. Ringo was the object of Marge's teenage affections, George was in the B-Sharps episode, and Paul and Linda showed Lisa it's easy being Veggie. Each cameo charmingly inoffensive and not too sycophantic. Just as The Simpsons should be.
Michael Jackson
No, no, no. It's not just because of recent events that he tops the list. He tops it because A) He was a huge Simpsons fan, B) His part was more than just a cameo, and C) The episode itself is hilarious and heart-warming. From the first introduction to 'scary, big white man with quiet voice' to the 'Lisa its your birthday' ending, this episode rocks.
There are just 5 of my favourites. Any you want to add below? It's just musical cameos this time. I'll do a movie one soon when there is still sweet FA on at the cinema.
Oh, and yes I am aware Kipp Lennon did the singing bit in the MJ episode. I have access to Wikipedia too. Also, apologies for the shit quality of the youtube vids.