There's More To 'Public Enemies' Than Johnny Depp – Although He Is Damn Fucking Cool
If a hack quasi-journalist such as myself was to compile a 'cool' list of all the 'coolest' movie moments, Mr. Johnny Depp would feature predominantly. The guy oozes charm, sweats charisma and has a swagger that you just can't define. In one scene towards the end of 'Public Enemies', Depp's character does something so audacious, so ridiculous that if anyone else was playing him the audience would baulk in unison. But when Johnny does it, well, it's just damn fucking cool.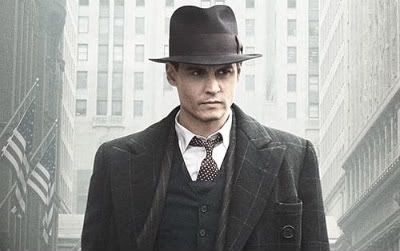 But 'Public Enemies' is about much more than just Johnny Cool. It's a detailed and interesting tale of the rise of one of the most prolific gangsters of all time. John Dillinger spent nine years in jail for robbing a grocery store. While there he became a master of crime and used the prison system to gather together the best of the best. Then, upon release, he went a robbin'.
http://www.youtube.com/watch?v=dWof6CovHxI
'Public Enemies' kicks off with Dillinger robbing bank after bank pissing off J. Edgar Hoover and forcing the tyrannical trannie to send his best man (or at least his most media friendly man) out in pursuit. Melvin Purvis (Christian Bale) is that man.
But for those looking for a 'Heat' style two-header between Bale the cop and Depp the robber, this isn't it. The pluralising of the Public Enemy in the title is misleading. This is the film of Dillinger.
Another sticking point is the use of high digital rather than celluloid (or even celluloid aping digital). Never still, director Mann puts us in the middle of the action from bank jobs to prison breaks. This is a hindrance to the work of the crew who have meticulously recreated 30's America with a wash of brown and grey. The camera style may add to the intimacy but it detracts severely from the beauty.
Thankfully, there is more than enough beauty left in the leads. Gone is the gothness of a Burton film or the madness of Captain Jack, leaving Johnny looking like a real movie star, complete with Gable 'tache. As for Marion Cotillard, Jesus Titty Fucking Christ! Those eyes, those lips.
It's almost as if she'd stepped off the lot of a early 20th century studio system film. Even more so, she's one of the finest actresses working today. When they share the screen, 'Public Enemies' feels like every bit of the classic that was promised.
Sadly, they don't share enough screentime, shoehorned out of the way for incidental characters that have half the impact in double the screentime. These extra characters clutter the story, and prolong the running time to an annoying degree.
Especially when most viewers will know the final outcome. But these are minor quibbles in a film that for the most part is intelligent, complex and tenser than a spring in a tommy gun. That it's been released amongst the garbage of the summer makes it even more of a treat for cinema goers, and one that I'd recommend you check out as soon as possible.