Life, to state the bleeding obvious, isn't like the movies. Sure you can replicate moments; a first kiss with a new love or paintballing, covered in mud playing Rambo. But realistically whatever your pursuits, everyday life can't quite live up to our silver screen expectations.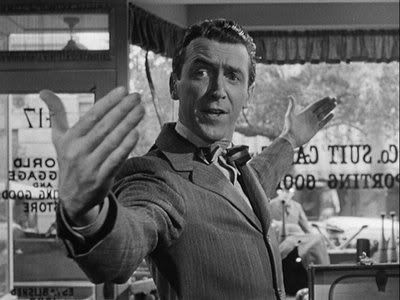 This Christmas, however you can play a bit-part in replicating the most beloved of all the Holiday films; It's A Wonderful Life. If the opening words "I owe everything to George Bailey. Help him, dear Father" gets you welling up instantly then here's a story for you. The Jimmy Stewart Museum celebrating the life and films of one of the greatest actors of all time may be set to close its doors due to lack of funding. They need your help to keep going.
"It's A Wonderful Life" may be the flagship Jimmy Stewart movie (and cynics be damned) a wonderful tie-in with the idea of giving to those in need, but fundamentally there is a lot more to why this one man deserves to be credited, why his history should be remembered. First up there's the films.
He was Hitchcock's greatest leading man (Sorry Cary) in Rear Window, Rope and Vertigo and the nicest drunk to ever hit celluloid in Harvey. After bringing the law to America in The Man Who Shot Liberty Valance he made American politics palpable with Mr. Smith Goes To Washington (even if the use of filibusters today may induce anger). Then there's The Philadelphia Story, Cheyenne Autumn, The Shop Around The Corner, You Can't Take It With You…the list is endless.
http://www.youtube.com/watch?v=bQ20vauQgh4
Doing a little bit of acting and being astute enough to pick incredible role after incredible role and make it your own does not alone make a man's life worthy of a museum. Willing to make the ultimate sacrifice does. Given the chance to bail out on the war, due to his celebrity, by selling war bonds at home James Stewart declined and signed up as a private in the Army Air Corps. In doing so he swapped a millionaire lifestyle for a $21 a month role flying almost suicidal daylight missions against the Nazis (check out the World at War chapter that tells of his bravery). Always a joker he still sent his agent his percentage.
Overall he flew 20 combat missions, was awarded six battle stars and in 1945 returned home a full colonel. Years later he donated his military pension away.
There are many other worthy causes out there and you could just as easily take a leaf out of this guy's book) and find out how much you really need to make you happy and give the rest away. Yet, if you know anyone that feels Christmas isn't complete without "Lassoing the moon" or "Zuzu's petals" make a donation on their behalf. If you'd just like to make a little difference to a few and keep alive the memory of a man who has given a lot to this world, visit www.jimmy.org or e-mail curator@jimmy.org and prove It really is A Wonderful Life, after all.