Hilarious, down to earth and not afraid to shine the light on what real life is actually like, Broad City is one of the funniest shows to hit our screens in a long time. With the impossibly relatable leads Ilana and Abbi, an actually funny supporting cast (big up to the legend that is dentist Lincoln), and a completely honest look at life without glossing over the shit bits – it's nothing short of essential television viewing.
Never watched Broad City and have no idea what we're talking about? Or just want to rewatch the first three seasons? Well fear not – NOW TV have answered all your hopes and dreams with a free 14-day trial. As long as you've not subscribed to their services before, NOW TV are offering a free fortnightly long trial – so you can indulge in as much Broad City as your heart desires. Yas kween.
But to get you started as you sign up for your two-week trial – here are ten of the most iconic moments from the series so far.
This perfect reaction to unsolicited advice: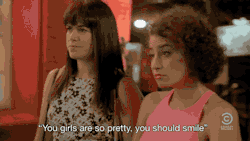 This accurate reason why you should ask somebody out:
When everyone knew what kind of holiday Halloween really is:
This iconic style advice:
When they had compliments down:
The only four Rs you need in life
https://media.giphy.com/media/3o7TKwxYkeW0ZvTqsU/giphy.gif
This honest opinion of Yom Kippur:
When brunch priorities were laid out straight:
This perfect 'American Beauty' moment:
And of course – everything about the family interaction: