Outside of Norway, Denmark, Sweden, Iceland and Finland, there's no legal way to watch the Norwegian teen drama series Skam – and yet across the world, it's become 2017's most talked-about show on Tumblr, according to stats aggregator Tumblr Fandometrics. How?
It all started in autumn last year. Without any marketing, a sizeable international community of Skam fans had begun to grow organically through word of mouth prior to the show's third season. Network NRK received so many calls to give the show English subtitles that they eventually issued a response explaining that the show's music rights made it legally impossible for them to subtitle it for an English-speaking audience. But that didn't stop the fan community from stepping in and doing it themselves: using a network of blogs, Tumblr pages and Google Drive folders, Norwegian-speaking fans of the show subtitled and uploaded each episode for the show's ever-expanding English-speaking fan community.
Given its unorthodox distribution method, there's no data about the size of its audience, but according to Tumblr Fandometrics, it's got a more chatty fan community than industry titans like Game of Thrones, Stranger Things and The Walking Dead. Here are three reasons why it's been such a hit.
https://www.youtube.com/watch?v=Hzd_Z1LPHsE
1. It's about actual teenagers
When researching Skam, its creator, writer, director and showrunner Julie Andem spent six months travelling around Norway talking to teens there about their experiences, and she used what she learned to make a show for and about real teenagers. "We found one main need," Andem told the New York Times last December. "Teenagers today are under a lot of pressure from everyone. Pressure to be perfect, pressure to perform. We wanted to do a show to take away the pressure." This means Skam doesn't try to get down with the kids: it just is.
2. It doesn't romanticise the big stuff
Skam is often labelled the "Norwegian Skins". It does broadly deal with the same highs and lows that Skins did, but here they come slathered in nuance, naturalism and even banality: there is no melodrama here. Each series centres on one character, and the issues they face both inside and outside their close-knit friendship groups. All four seasons of the show contain the same overall cast, but groups come in and out of focus each season – so a main character from season 1 might only appear in a handful of scenes in season 3, for example.
Across its four seasons, the show – whose title translates as "shame" – has sensitively handled issues including: bipolar disorder; the collapse of burgeoning relationships; coming out; growing up straddling two cultures; and even the detrimental effects of schoolyard hearsay.
Crucially, in almost every episode of Skam, viewers will get a keen sense that their fallible protagonists are learning more about themselves and others. Each episode is punctuated by quiet moments that manage to be incredibly telling – exemplified by a series-defining scene where Isak comes out to his gay housemate, Eskild: in it, Isak distances himself from gay culture, spewing out toe-curling internalised homophobia, before a furiously calm Eskild shuts him down. It's the kind of shrewd, didactic moment Skins could only have dreamt of.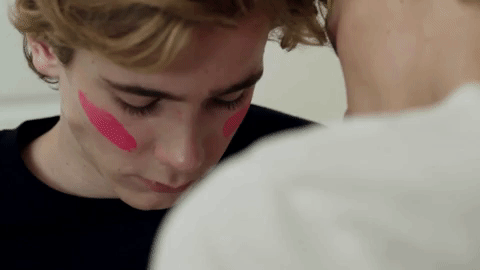 3. It happens in real time
In its approach to storytelling, Skam is a proper pioneer, spanning formats of Instagram, webisodes and traditional broadcast in a way that's never been done before, and which has helped foster its ravenous fan community. Each episode tells the story of one week, but consists of several scenes that drop in real time online: say a classroom scene happens at 2pm on a Wednesday – that scene will drop online at 2pm on Wednesday.
Over on Instagram, if you're following the show's characters – Vilde, Noora, or Isak, for example – their posts will drop on your feed as they 'happen' in the timeline of the episode, immersing viewers in each week's events, teasing future scenes, and in some cases highlighting the mind-numbingly performative aspects of social media.
Then, at the end of the week, the whole week's scenes are collected and broadcast in one go for viewers that want to experience a more traditional episodic format – but it's never quite the same as 'normal' TV, because these episodes can last between 15 and 59 minutes.
Whichever way you watch, you can opt into an extremely immersive viewing experience on multiple channels, which only heightens the realism of Andem's fictional world.
After two years and four seasons, Skam has now come to an end in Norway, but creator Julie Andem is currently working on an American version of the show set in Austin, Texas. On November 10, 2017 she announced casting had begun, so it'll be a while yet before we see it – but it's likely her vision is going to become an English-language phenomenon of its own very soon. We'll leave you with her optimistic words on the forthcoming project:
"I have decided to showrun and direct the American version of Skam. I didn't want to give it to someone else. It will be a challenge to try to make it in a different culture, in a different language, to a much larger and diverse audience, but I promise that I will put all of my effort and heart in to it. And I am going to need your help. Because Skam is not my show. All of us own Skam. It is not just a drama series, it's an event and a community that all of you are a part of and contribute to. So please help me. Let's show teens everywhere that they are not alone."